Whether you're off on a day out, popping to the shops or commuting to work, there's more joy in the journey when you walk or cycle in the West of England.
Walking and cycling can boost your mood and help your health. They also help to build a cleaner, greener future for the West of England.
If you're keen to walk or cycle for short journeys, we have plenty of support to help you get active.
The West of England Combined Authority is working with our partners across the region to support people to choose walking and cycling for short journeys. Find out about how we are investing in infrastructure across the region to make walking and cycling safer, more accessible and more convenient, and discover some of the support, routes and tips already available to help you walk and cycle around the West of England below.
Join My Journey launches for West of England commuters
Join My Journey is a free online service that matches commuters up from the same workplace to share walking, cycling and car journeys.
Business leaders across Bristol and the West of England are now being encouraged to sign up their companies and organisations to the online platform so their staff can easily share journeys to work.
For anyone who does not work in a large company, there is also the option to join an area hub, where smaller businesses are linked up with others to share journeys to the same area.
Visit joinmyjourney.org.uk to register your organisation or join as an individual.
Jump to…
Walking
Even if it's a small trip to the shops, walking leaves you feeling energised and you'll save money on petrol. You'll love the journey in the open air.
Find out about walking tips, maps, routes, news and events
---
Cycling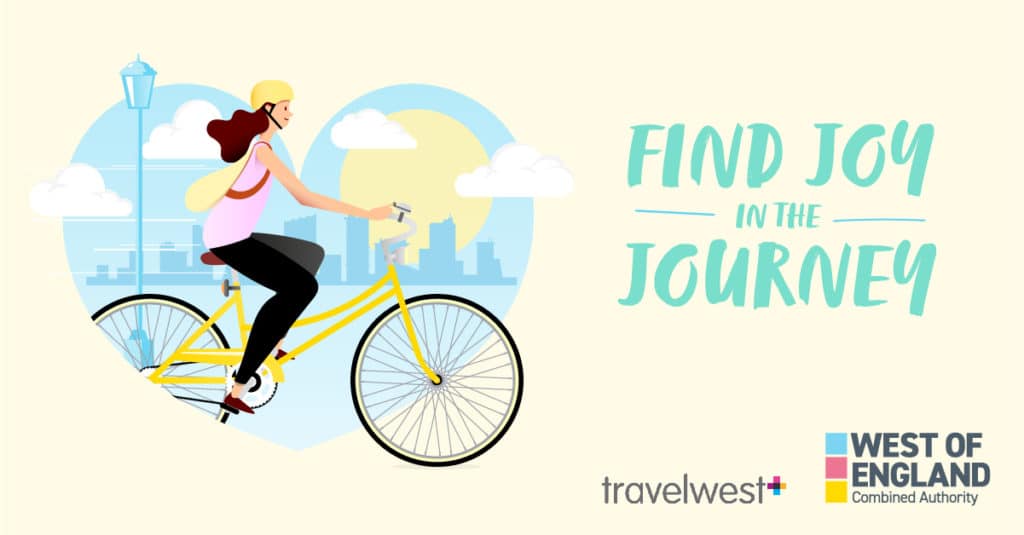 With lots of community support, training and funding schemes available, the pedal power of this gentle form of exercise really helps your brain unwind.
Cycle planners, loan schemes, rides and routes
---
Travel to school
Find joy in the journey when you walk, cycle or scoot to school. You never know what you might discover along the way.
Find tips, routes and support
---
E-scooter trial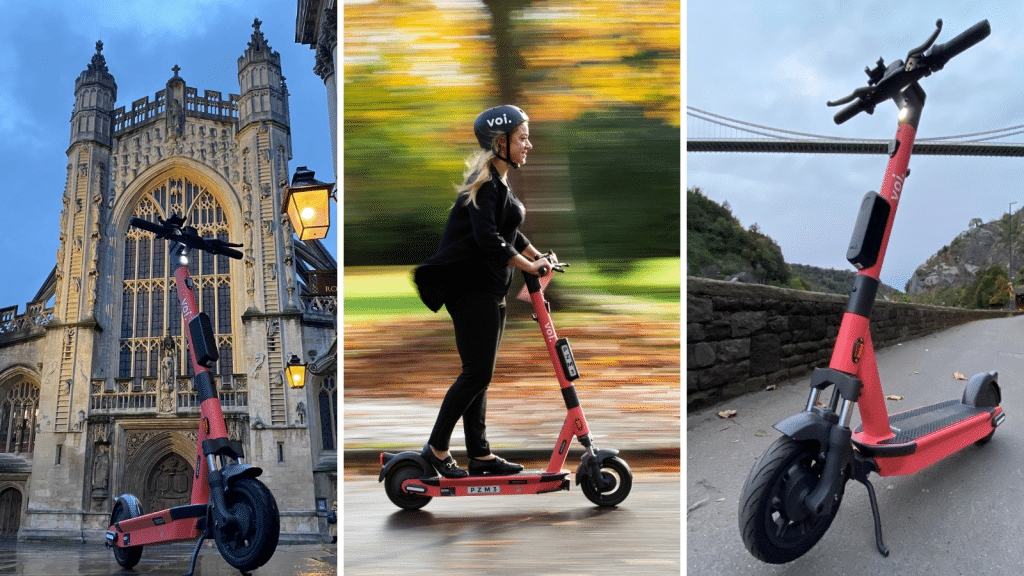 Hop-on hop-off e-scooters
Hop-on hop-off e-scooters are available in Bristol, Bath and in parts of South Gloucestershire to help residents and visitors to get around central areas. Clusters of e-scooters will also be available at other key locations such as stations, university campuses, hospitals and large employment sites.
Long-term lease hire e-scooters
Long-term rental e-scooters are now available across the West of England region, allowing residents to keep an e-scooter at home for an extended period of time, giving them more flexibility to travel from home and move flexibly within the region.
---
Your stories

As a Headteacher, I was required to be in school every day during Lockdown.  I had been in the habit of driving the 6-mile journey to and from work.  My usual opportunities for exercise were curtailed due to lockdown: the gym closed, dancing classes were cancelled.  The e-bike gave me an opportunity to get my daily exercise by cycling to work. I have saved money on petrol, increased my fitness and have benefitted from the fresh air and the 'switch-off' time that cycling affords, which has supported good mental health during an exceptionally stressful time.

Most of my family and friends walk or cycle for pleasure; I shared e-bike information with my colleagues, some of whom took up the opportunity of the loan scheme. I think walking and cycling are some of the best forms of exercise.  If you can incorporate your daily exercise into your journey to work, you've cracked it!

I have always tried to stay reasonably fit for my job by walking and the occasional cycle. Lock down seemed to spur me on to get fitter and cycle more though. It's helped reduce stress of lockdown and COVID-19 and has improved my health too. And apart from stress relief and increased fitness, cycling has allowed me to save on fuel and I feel I've played a part in keeping the environment cleaner. My commute from Midsomer Norton to Bath uses the old railway cycle path so most of it runs through our local countryside. It's a very enjoyable experience in early mornings, I regularly see rabbits, foxes, deer and badgers on the ride in

I regularly cycle with my wife and grown up children and I say to others go for it. We're lucky to be surrounded by beautiful countryside so take your bike and go and explore.

I used to cycle to my previous job which was when I started cycling again after quite a few years. My confidence was quite low, and I was quite nervous the first few times. But lockdown really increased my appetite for cycling. And with the quiet roads I felt more relaxed and didn't feel like I needed to stick to the cycle path (Bath to Bristol) and I more time to do leisurely cycles which has been great!

My original motivation to start cycling was so I could get to the office faster and save money on petrol costs. When I drove to work, I felt stressed and frustrated due to the huge amount of traffic, road works or accidents on the commute. But with cycling I enjoy checking out the scenery, sometimes seeing the fields in the morning covered in fog or on warm days the smell of sunshine. And I'm chilled when I get to work and feel like I've earnt my 10:30 snack.

I just enjoy getting out of the house for a walk or a cycle, for fresh air and a change of scenery. My partner and I have started making the day of it and taking a picnic. We've discovered new places and had great adventures. I definitely recommend cycling! It's great for giving yourself some time to think, a chance to save money, great form of exercise to get in shape and to explore your local area.
---
For Businesses
Encourage your employees to walk or cycle to work.
By encouraging and supporting your staff to cycle and walk for short journeys, your employees can help improve our air quality, feel energised, arrive at their destination on time and help reduce pressure on public transport.
Support your staff to cycle or walk to work to improve their health and well-being and help reduce pressure on public transport.
West of England Combined Authority's business support guide

Find out more about the cycle to work scheme
---
For Communities
Enable more active travel in your neighbourhood. Let people on your street know about our active travel offers and book a roadshow to come to your next festive gathering, spring fete or summer fair!
If you have a big idea about promoting active travel we have grant funding available.
Head over to our community pages for more information
---
Gallery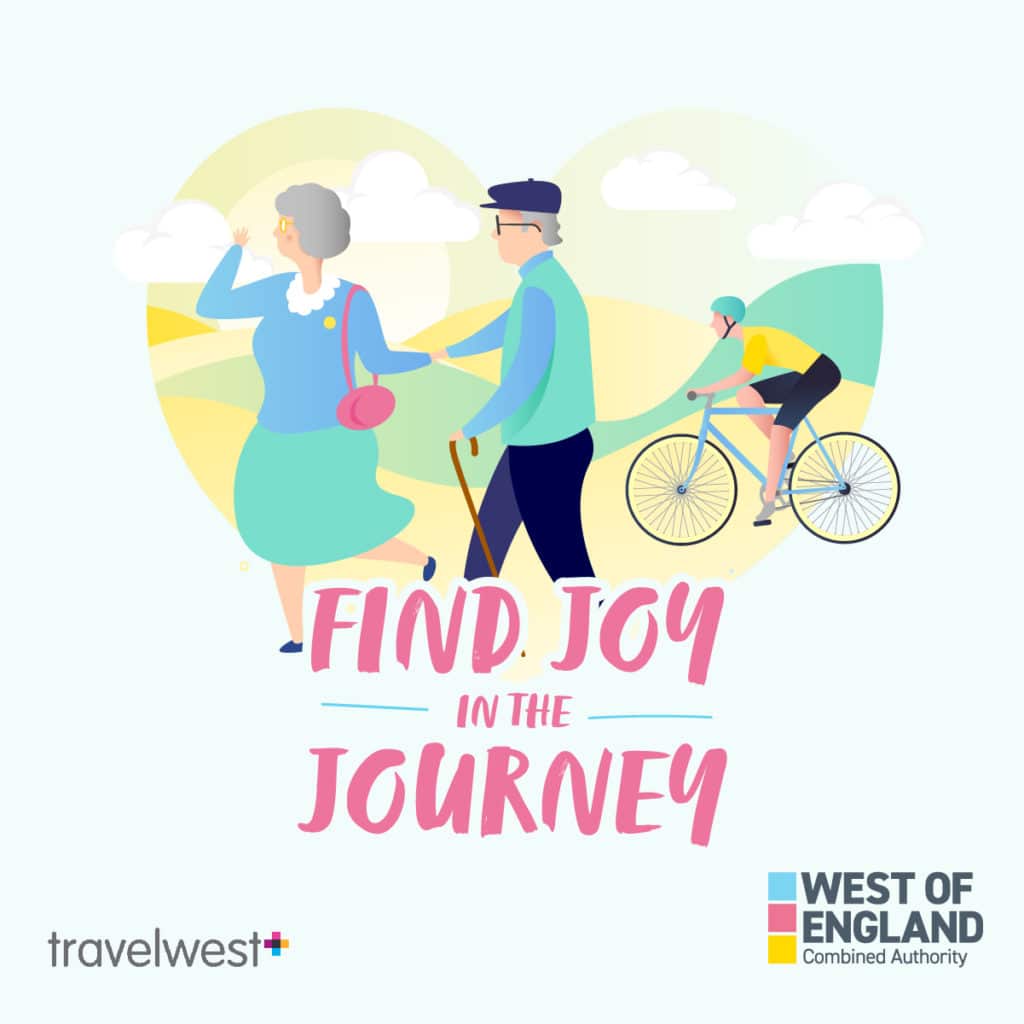 ---
*Statistics source: 'All Change? Travel Tracker' released by Department for Transport June 2020