Coronavirus Travel Advice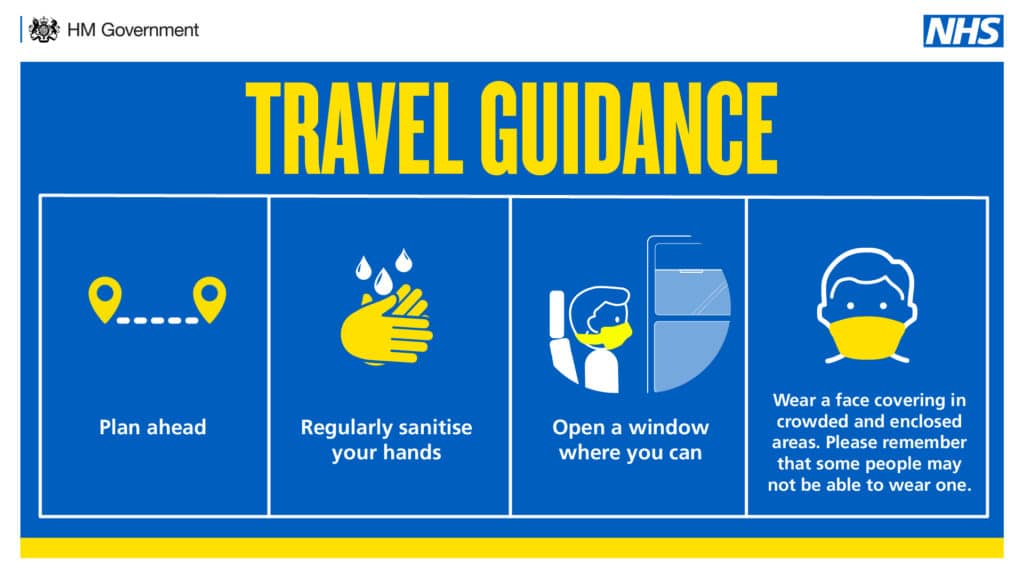 Latest guidance in England
The government has announced that England will move to Plan B in response to the risks of the Omicron variant.
This means:
From 10 December, face coverings will be required by law in most indoor settings.
From 13 December office workers who can work from home should do so.
From 15 December, certain venues and events will be required by law to check that all visitors aged 18 years or over are fully vaccinated, have proof of a negative test in the last 48 hours, or have an exemption.
Latest update from 19 January 2022:
From 19 January, you are no longer asked to work from home if you can. Talk to your employer to agree arrangements to return to your workplace.
From 27 January, you will not be required to wear a face covering, including in communal areas of schools, but the government suggests you continue to wear one in crowded and indoor spaces where you may come into contact with people you do not normally meet. You'll no longer need to show your NHS COVID Pass at venues and events by law.
Jump to:
Face coverings compulsory on public transport
Face coverings must be worn over your nose and mouth when using public transport, including in buses, coaches, trains, taxis and indoor transport hubs such as enclosed bus stations, coach stations and rail stations. Exemptions apply.
When wearing a face covering:
It is important to wash or sanitise your hands before and after touching your face covering
If wearing a disposable face covering, use a 'black bag' waste bin or litter bin to dispose of it. You should not put face coverings in a recycling bin or drop them as litter
Be mindful that a face covering may inhibit communication with people who rely on lip reading, facial expressions and clear sound
Before travelling
You may wish to consider the following in order to help you to travel safely:
Check with your operator regarding any policies they may have in place, you can find contact details in our help centre
Open or keep windows open for ventilation where it is possible for you to do so
Wash or sanitise your hands regularly
Avoid touching your face
Cover your mouth and nose with a tissue or the inside of your elbow when coughing or sneezing
Dispose of waste safely, including items such as used disposable face coverings
You must not travel at all if you
Find out whether you need to self-isolate and how you can protect others if:
If you get any COVID-19 symptoms, self-isolate immediately and get a PCR test.
Find out more about what to do if you have COVID-19.
This guidance applies to England only.
If you are crossing from England into Northern Ireland, Scotland or Wales, you should plan ahead and ensure you understand and comply with the rules for the whole of your journey.
Safer travel guidance
---
Frequently asked questions
Two major bus operators in the West of England have launched an update to their mobile apps which allows passengers to see live locations and capacity for their buses.

For more information, and links to download their apps, please visit the following pages (external):