Bristol's Free Electric Van loan scheme
'Part of Bristol's Electric Vehicle Centre of Excellence' – plugged in for cleaner air
Bristol City Council is offering organisations in Bristol the chance to try an electric vehicle for free. The scheme is designed to help you decide if an electric vehicle is the right choice for your organisation.
Leases will last from four to eight weeks depending on how popular the scheme is and include free insurance cover*.
The scheme will run for two years and is funded by National Highways.
*Insurance cover is subject to specific policy requirements. A free electric van loan cannot be agreed with anyone who does not meet the driving standards set out in the "Insurance" section. Information about insurance policy requirements is available further down this page.
Jump to:
Trial an electric vehicle that suits you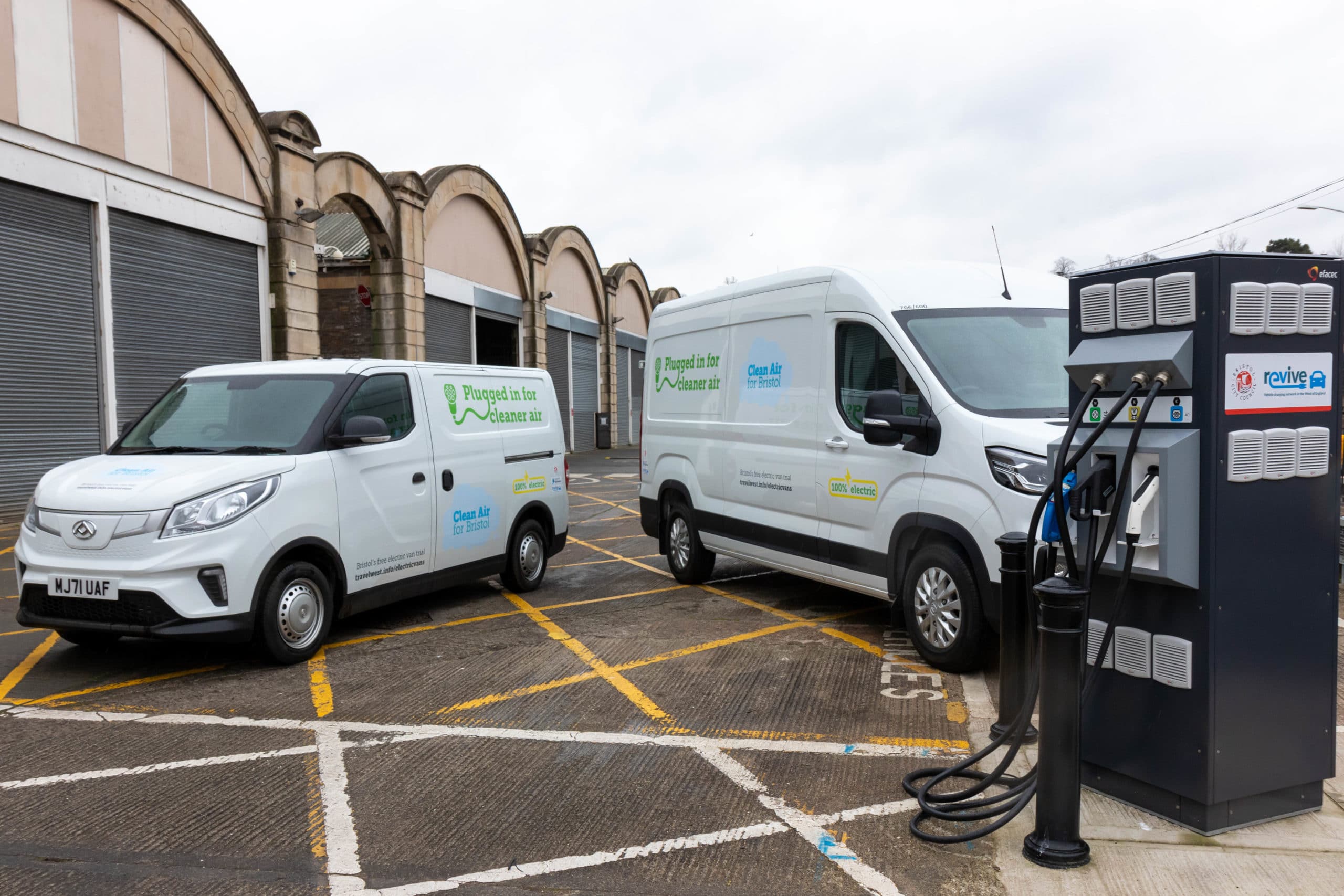 You can choose from different types of electric vehicles. The available vehicles are:
10 x e-Ford Transit Leader 350 L2H2 (maximum gross payload 1,008-1,035)
6 x Maxus 'E-deliver 3' medium vans (max cargo space advertised as 2,180mm (l) x 1,665mm (w) x 1,330 (h))
4 x Maxus 'E-Deliver 9' large vans (max. cargo space advertised as 3,413mm (l) x 1,800mm (w) x 1,792mm (h))
5 x Renault Zoe cars (suitable for mobile hairdressers, care workers or florists)
15 x Toyota Proace City vans (short wheelbase/L1 – max cargo space up to 3.7m3 on short version)
15 x Fiat Scudos vans (load capacity of up to 6.6m3, payload of up to 1400kg)
Help to go electric
The scheme is limited by the number of vehicles available for loan. Whilst you're waiting for your lease to begin please visit the Go Electric advice page on how to reduce emissions from your fleet.
Eligibility for the free electric van loan scheme
The scheme is for Bristol-based sole traders, small to medium-sized businesses (with up to 250 employees), and voluntary and charity sector organisations.
The scheme is open to organisations that:
currently operate at least one petrol or diesel vehicle
make frequent trips in and out of the city on the M32 or other motorways and major routes or travel regularly through the Clean Air Zone
agree to complete monitoring forms before and after the lease term
meet our simple loan agreement requirements
The scheme is not open to:
Organisations already using electric vans in their fleet
Public sector organisations because we need to prioritise small firms and sole traders. In addition, many public sector organisations already have electric vehicles are able to secure free demo vehicles easily from other sources
Businesses who carry hazardous chemicals, gas cylinders or fuel*
National multi-drop, delivery companies
*We will accept applications from painters and decorators who need to transport small quantities of white spirit.
Costs of taking part
Deposit
A fully refundable £250 deposit must be paid at the start of the trial. You won't have to pay any other fees but we may charge you if you lose or damage the vehicle. Please see Other Costs for more details.
Charging
The cost of charging the vehicle is not included and you would need to pay for this. There are more than 300 public use charge points across the West of England and you can use this interactive map to find your nearest charge point.
Public charging networks are run by a range of companies that usually offer a mix of slow (3-7kW), fast (7-22kW) and rapid (50+kW) charging options. The UK charging networks are usually accessed via a membership scheme which you will need to join. Some also offer contactless payment for rapid chargers. More information on how to sign up to UK charging networks and how to pay to charge your vehicle using them, is available on the Zap Map website.
Revive is a public vehicle charging network owned and operated by councils in the West of England, which includes charge points installed in and around Bristol. You can find out more about Revive and how to sign up on the Revive pages.
How to apply
Apply online using our easy application form below.
Next steps
We'll let you know whether you are eligible for the scheme. If you are, we'll contact you to discuss your application and match you to the most suitable vehicle available.
Please note, we allocate vehicles on a first come first served basis.
Additional information
As part of the handover and return of vans we will ensure we comply with current restrictions and guidance around operating safely during Covid-19.

All vehicles will be fully cleaned prior to loan.

The vehicle collection and return address is:

Bristol City Council Fleet Services,

Sandy Park Road Depot, Sandy Park Road,

Bristol BS4 3NZ

The vehicle will be insured under a fully comprehensive vehicle insurance policy. Up to two drivers in each business/organisation can be insured to drive the leased vehicle but there are 'driver acceptance criteria' around age, penalty points and licence disqualification:

Drivers cannot borrow a vehicle under this scheme if they have points or a combination of points related to serious driving offences.
The number of penalty points cannot exceed six in total in the past three years.
The insured vehicle can only be driven by someone with a minimum age of 25 and a maximum age of 75 and they must have held a full UK/EU licence for two years.

The insured vehicle cannot be loaned or driven by persons:

Convicted of an offence in connection with the driving of a motor vehicle or any person that has had their driving licence endorsed or suspended
Who have had their insurance declined and/or renewal refused or cancelled by any motor insurer
Who are not British or EU Citizens unless they have had three years recent and regular driving experience of a motor vehicle, other than a motorcycle, in the UK
Who whilst driving have been involved in more than one accident during the past three years

The insured vehicle cannot be used:

For the carriage of goods of an explosive, dangerous or hazardous nature. If you are unsure, please discuss prior to the loan commencing
For the carriage of goods or passengers for hire and reward or for any other form of profit or remuneration (this applies to couriers delivering door to door or services carrying people such as taxi drivers). If you're interested in borrowing our electric taxis, we have a separate insurance policy which includes the carriage of passengers
In any restricted or hazardous locations without prior and express agreement by Bristol City Council &/or their Insurers

The vehicles are new and electric vehicles have fewer moving parts to go wrong so breakdown, maintenance and repair is rare. But to give you peace of mind contact details of who to call if you need assistance associated with a fault or breakdown will be provided as part of your induction on the day you collect your loan vehicle.

A £250 deposit will need to be paid by card to Bristol City Council in advance of the handover day. This is refundable on condition that the vehicle is returned with no damage. If the vehicle is returned damaged, the council reserves the right to withhold the deposit. If repair work exceeds the deposit, the business/organisation would be liable for the balance.

You will be charged for:

Lost Keys (manufacturer fee per key + £25 administration fee plus VAT)
Lost or damaged vehicle charging leads (manufacturer fee + £25 administration fee plus VAT)
Late return of vehicle (£50 fee plus VAT)
Failure to settle parking/driving penalties on request (£25 fee plus VAT)
Vehicle returns with signs of smoking (£100 fee plus VAT for full interior valet)

The business/organisation is responsible and liable for any parking, driving penalty, congestion or clean air zone charge imposed that is relevant to the van during your loan period.

The business/organisation will need to read and sign a loan agreement in advance of the day of handover. The agreement will be sent to you in advance of the collection date.
To review how successful the scheme is, you need to complete a short online questionnaire when we handover the electric van and on the day you return the van and the keys. Each will take no more than 15 minutes to complete.
---