Additional information about the Bristol section of the A4 corridor between Bristol and Bath
We want to provide better and more sustainable transport in Bristol to improve air quality and help people get to places more easily.
Bristol City council is working with the West of England Combined Authority (WECA) on plans for a mass transit public transport system. This is a network that can move lots of people quickly, running separately to traffic on over or underground lines.
Options are still being developed, but we are also working to deliver rapid bus and cycle routes to help lay the foundations for mass transit in Bristol, Bath, South Gloucestershire and North Somerset. By giving buses more priority, we can increase the use of public transport and build a case for government and private organisations to invest in a low carbon, reliable transport network.
We are therefore looking to upgrade bus journeys on key roads in and out of Bristol, including the A4 between Bristol and Bath.
To do this, we want to find out how people use the A4 and what the biggest issues are.
The A4 in South Bristol
The Bristol section of the A4 road runs through Totterdown, Arnos Vale, and Brislington. It goes from the Three Lamps junction in Totterdown where the A4 meets the A37, past Arnos Vale cemetery and Sandy Park Road and out towards St Brendan's College and the Brislington Park and Ride where it reaches the boundary with Bath and North East Somerset.
This is shown on the map below: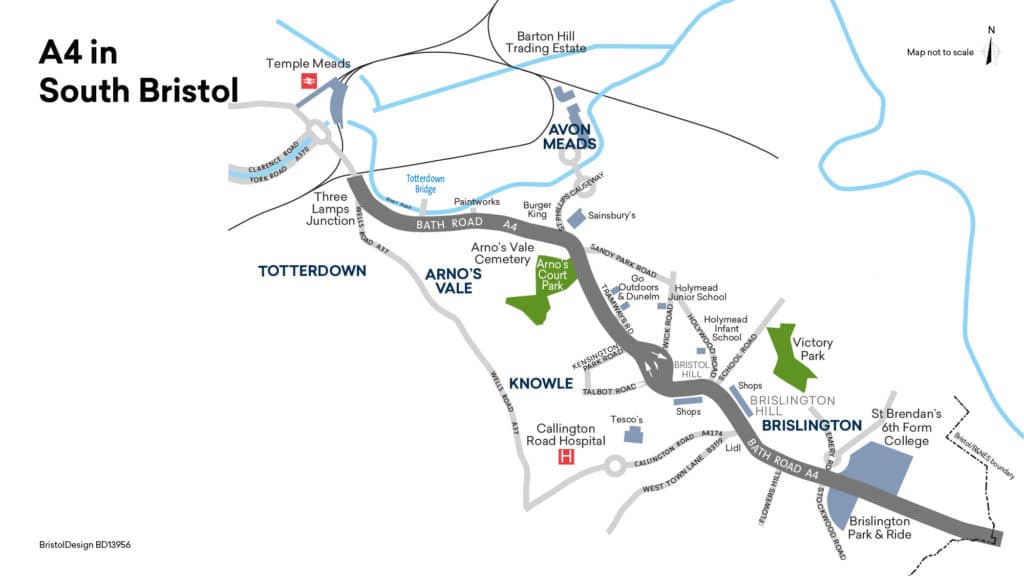 We need to make travel better on the A4 from Bristol to Bath
The A4 road dominates the areas that it passes through. Between 6am and 7pm, a car passes the shops in Brislington every three seconds. Air quality and journeys along the route are therefore poor and this has a negative impact on people's lives, with pollution contributing to poor health and deaths.
The road is already one of the city's busiest routes, and it will be under even more pressure as the population of Bristol grows.
We know from the 2020 Quality of Life Survey that Brislington residents want to see improved bus and public transport on the A4, alongside reduced traffic volumes and congestion.
Making walking, cycling and bus journeys better along the A4 will encourage people to:
leave their cars at home
make it easier for people to access jobs, education, leisure, and each other
improve public health with cleaner air that helps people to live longer lives
improve our public spaces
help us tackle the climate emergency and make space for wildlife
improve the environment and quality of life for people who live and work along the A4, particularly in Brislington
Bristol City Council's aims for upgrading the A4:
We want to:
improve the lives of people who live, work, and visit this area of Bristol. Reducing traffic on the road will improve air quality, noise levels, routes to school, access to employment opportunities
improve walking and cycling routes into the city with a high-quality segregated network of cycle paths. Walking and cycling will clean up our air, improve traffic congestion and reduce noise pollution in Bristol. If more of us walked or cycled we could improve our environment, build our fitness, and save money all at the same time.
increase the number of people cycling in the city. Bristol boasts 75 miles of cycle routes and we offer cycling support with bike riding lessons, free bike hire and loans to buy bikes. But we need to do more to ensure cycling is safe and accessible to everyone.
see more people using the bus to reduce congestion, improve air quality and help us to meet our ambition climate commitments including reaching net zero carbon emissions by 2030. Buses often get stuck in traffic where there aren't bus lanes and we know that not everyone can easily catch a bus. We want to deliver rapid bus routes and make it bus travel quicker and more reliable in all areas of the city.
Challenges for bus travel on the A4
The current road layout and volume of traffic are the two main issues on the A4. Limited road space means buses get stuck in congestion because of the numbers of cars. The map below shows where the bus lanes have been installed to date.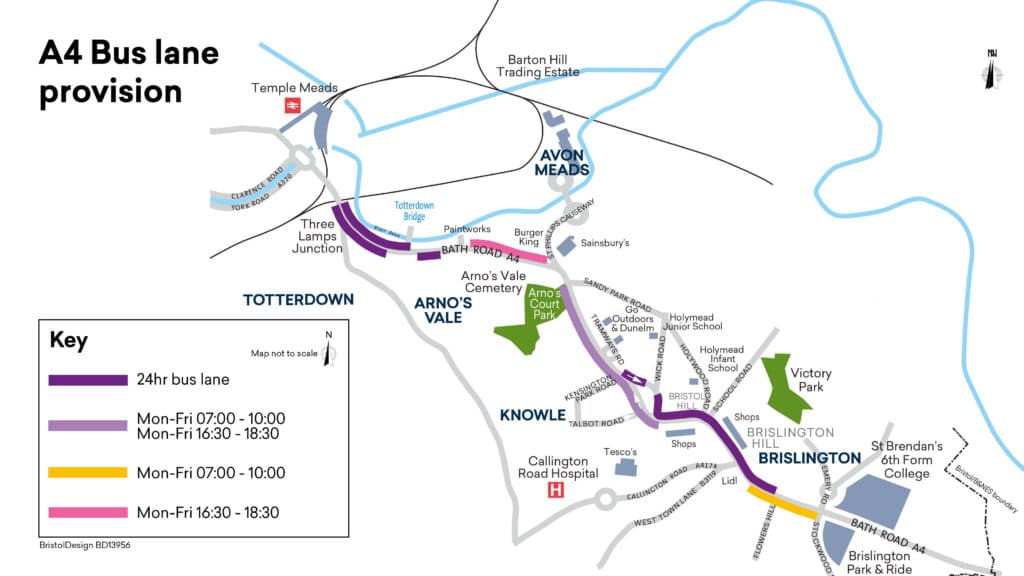 A4 traffic congestion
The A4 is the main road link between Bristol and Bath and is one of the busiest and most congested roads in the city. The A4 also has the most congested traffic light junction in Bristol where West Town Lane meets it in Brislington. Here several very large roads converge which often leads to traffic jams and cars using residential side roads to escape them. This makes bus and cycle travel difficult.
National and regional traffic movements affecting this junction are shown on the map below: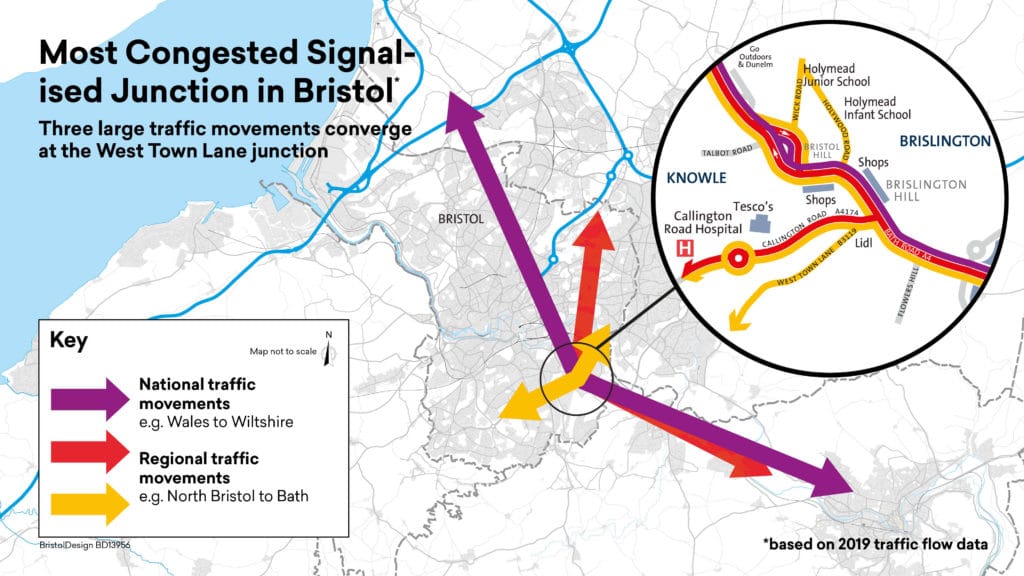 Thank you for having your say on how to improve the A4 in South Bristol
Residents and businesses on and around the A4 were asked a few questions to help us develop more sustainable transport options on the route.
The feedback will help feed into the proposed transport scheme designs for the A4. We heard what people think who live and work in the community to make sure the changes to the A4 have a positive impact on all aspects of people's lives.
The Bristol to Bath Corridor survey closed on 10 September 2021. We are currently working through all of the information and further updates will be available later in the year.
If you do have a question about the project you can email [email protected] or call 0117 9036449 and leave a message with your query and contact details.
---
More information
This project is part of a wider scheme looking at improvements along the entire A4 corridor to Bath

Introducing significant improvements to key transport routes across the city of Bristol

Improving bus services and walking and cycling opportunities in the West of England