E-scooter and e-bike hire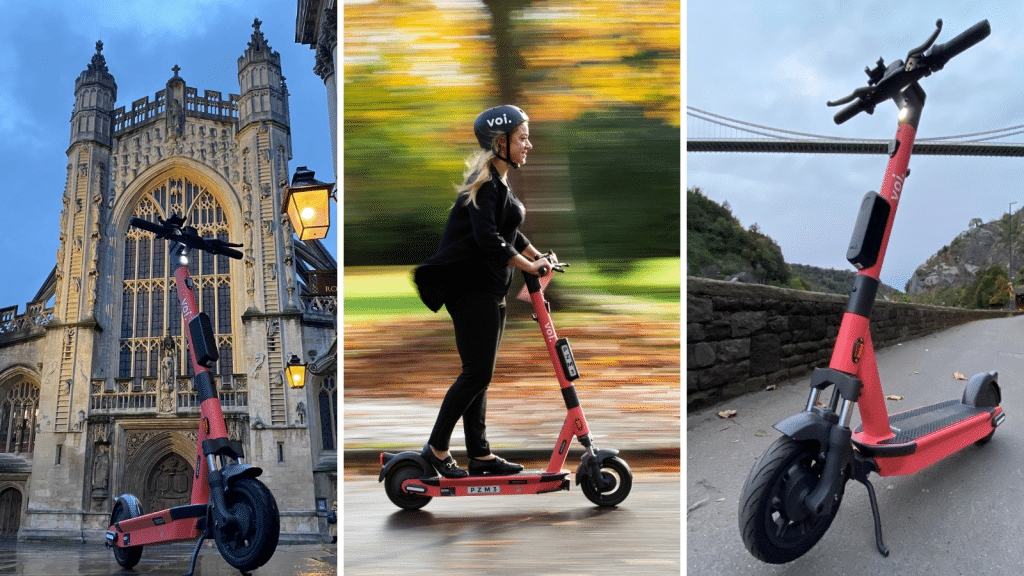 Hire an e-scooter across Bristol and South Gloucestershire area
A new e-scooter and e-bike hiring scheme has launched
The new scheme, operated by TIER, has launched in Bath and will come to Bristol on 14 October. This scheme will replace the current Voi e-scooters scheme and bring new ways to travel with e-bikes and e-cargo bikes also available to hire.
The e-scooters and e-bikes started operating in Bath on Tuesday, 12 September, with further availability across other areas of the West of England following shortly after.
Hop on an e-scooter and enjoy a safe and easy way to get around town. Riding an e-scooter is a great way to travel to work, the shops, or simply explore your local area.
As the first region in the UK to have offered both hop-on hop-off and long-term rental options, our local scheme offers everything you need when you're thinking of travelling by e-scooter. Both for the occasional and the regular rider.
Ready to hop on?
Find out more
Operating areas
Please note that the map below shows both the current Bristol scheme, operated by Voi, and the new Bath scheme area, operated by TIER.
Please note the map below shows only the general operating areas. Refer to the Voi app for exclusion zones such as pedestrian only paths, parks without paths, private areas, etc…
---
Hop-on hop-off
The perfect rental option for the occasional rider. Simply use the app to find your nearest available e-scooter, hop-on and ride on. Then you can hop-off and safely park the e-scooter at an approved location.
Top tip: if your app is not showing the options below, it needs updating. Visit the app store to update your app.
Pay per ride
With pay per ride, you pay £0.99 to unlock an e-scooter and £0.17 per minute thereafter. So if you're riding for, let's say, 10 minutes, your ride would cost you a total of £2.69.
Day pass
Enjoy 120 minutes of riding at a reduced rate and free unlocks for 24 hours for £5.99. The price per minute in this option is around £0.05.
Monthly subscriptions
You can also subscribe to monthly passes which give you a limited number of minutes to ride each month. Unlocking an e-scooter is always free when you have an active pass and you get to ride at a reduced rate, from £0.07 per minute!
Compare all options below
| Name | Minutes included | Cost per minute* | Unlock cost | Total cost |
| --- | --- | --- | --- | --- |
| Pay per ride | On-demand | £0.17 | £0.99 | On-demand |
| Day pass | 120 minutes to use within 24 hours | £0.05 | Free | £5.99 |
| Monthly 300 | 300 minutes per month | £0.13 | Free | £39.99 |
| Monthly 750 | 750 minutes per month | £0.07 | Free | £54.99 |
*Costs per minute are approximate.
---
Long-term rental
The perfect rental option for the regular long-term rider. You get exclusive access to an e-scooter with unlimited travel for just £40 per month.
You store the e-scooter in a safe and convenient place to you, such as at home, work, or locked to a cycle stand as you would a bicycle.
---
Special discounts
Our e-scooter hire scheme provides special discounts to support a wide range of users. This includes:
NHS staff and Blue Light Card holders
Military personnel and veterans
Low-income groups
Refugees & asylum seekers
Disabled people
65+ years old
Students and apprentices
Staff at higher educations institutions
---
Rules and safety
E-scooters are classed as motorised vehicles, this is why you must have a full or provisional driving license and insurance (the insurance is covered by the e-scooter rental company!).
You're riding a fairly heavy and fast vehicle that will sometimes share spaces with other more vulnerable road users such as cyclists and pedestrians.
If not driven safely an e-scooter can cause harm to you and others, so it's very important that you ride in a safe and responsible manner. If you don't, your account may be suspended and you may be reported to the police who may apply points to your driving licence and/or issue you with a fine.
General rules
You must be at least 18 years old to ride a Voi e-scooter, and hold a full or provisional driving licence
Do not allow others to use your Voi account or driving licence. You will be responsible for any misuse
Never ride an e-scooter on the pavement
Do not ride under the influence of drugs or alcohol
Only one person per e-scooter
When renting an e-scooter, users agree to park the vehicles with respect towards pedestrians, property and traffic, and to also ensure the following:
The vehicle is parked on a footway closely alongside a wall or in connection to a bike stand/parking rack
The vehicle is standing up in a steady manner on its kickstand
The vehicle is not blocking entrances, access ramps, traffic, bus stops, crossings, or obstructing pavements
---
Ready to hop on?
---
Frequently asked questions
Voi is the appointed as the e-scooter trial operator until September 2023.
No. Only e-scooters which are leased or hired as part of a local authority trial which has been authorised by the Department for Transport are legal to use. The use of privately-owned e-scooters on public land remains illegal.

Retailers need to inform e-scooter customers of the restrictions on e-scooter use so that users remain within the law. Police and Trading Standards have sent a letter to retailers to remind them of their legal obligations

It is illegal to ride an e-scooter on the pavement. E-scooters which are hired or leased through the West of England's trial can be ridden on any public land where cycles are permitted, within the operating zone, this may include some shared paths where both cyclists and pedestrians are permitted.

The operator uses geofencing technology to limit access to some places. This can include restricting use entirely or limiting the speed of e-scooters within geographically defined zones. For example, the speed of e-scooters can be automatically restricted to slower speeds within busy pedestrian areas. Geofencing can also be used to ensure or encourage e-scooter users to park their e-scooters within permitted parking areas.

The West of England Combined Authority works closely with the police, operators, stakeholders and the public to continually refine any geofenced boundaries.

In line with the Department for Transport's guidance, we recommend wearing a cycle helmet when using an e-scooter, but their use is not mandatory.
We want to ensure that riders are safe and have the best possible experience. If the vehicle is faulty or needs to be repaired, a local team will pick it up and replace it with a new one.

No, this is included in the rental fee.

After the application has been approved and processed you will be contacted to arrange the scooter delivery to your address.

Long-term rental users are exempt from mandatory parking zones. You should still park them responsibly, on a section of pavement or other designated parking area considering pedestrians (especially vulnerable road users, such as those with visual or mobility impairments, children, and the elderly).

Yes, a lock will be provided that you can use to lock the e-scooter.

At the end of the contract, the e-scooter will be collected from your home address. You will have to return the e-scooter, the charger and the lock.

Longterm rental e-scooters have a black steering column, while the hop-on hop-off e-scooters have a coral coloured one.
---
Need help?
Voi customer service
If you encounter any issues with your hire or rental, such as the location of parked e-scooters, misplaced scooters, or inappropriate riding behaviour including underage riding (below the age of 18), you should report this to the operator via the app or via the email below.
---
E-scooter hire is part of a Department for Transport e-scooter trial scheme taking place at several locations across the UK. For more information about the West of England trial visit the link below.
---
This page was last updated on 15 June 2023. We cannot accept responsibility for incorrect or outdated information as unplanned changes may occur. Please always refer to the operator's website or app for the most up to date information.