A new e-scooter service is coming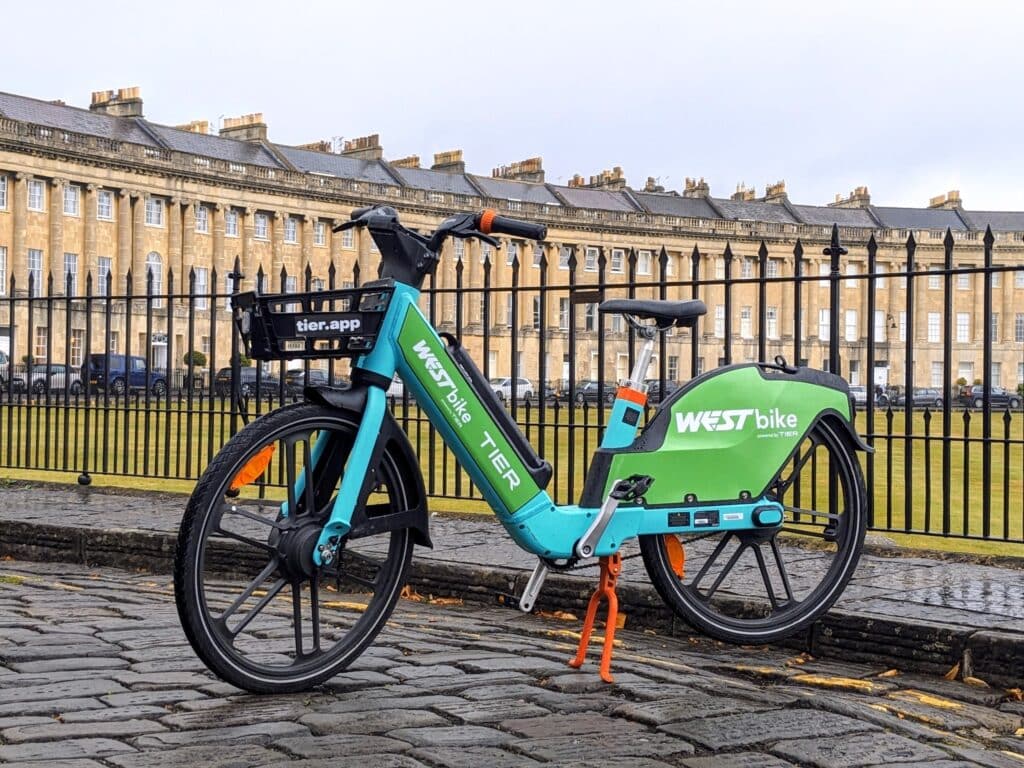 Changes are coming! From this Autumn TIER, a new e-scooter operator in the West of England, will be replacing Voi
TIER e-scooters launch dates
The new TIER hire scheme is being launched in phases as below:
Bath: TIER e-scooters and e-bikes began operation on 12 September
Bristol: The first e-scooters and e-bikes will be available for use on Saturday, 14 October
Once the switch-over takes place, you will no longer be able to hire e-scooters in Bristol or Bath using the VOI app and will have to start using the TIER app.
E-bikes will first launch in Bath, at the same time as e-scooters, and e-cargo bikes will also be coming soon under this new scheme. To keep up to date complete the form below.
Jump to:
New scheme Operating areas
E-scooters will operate within the same current areas, e-bikes and e-cargo bikes will be available within the same areas as the e-scooters and wider. More information about these will be released soon.
---
New scheme hire options
The new TIER scheme will continue to offer hop-on hop-off and long-term rentals.
Pay per ride
With pay per ride, for both e-scooters and e-bikes, you will pay £0.99 to unlock and £0.16 per minute thereafter. So if you're riding for, let's say, 10 minutes, your ride would cost you a total of £2.60.
Commute Pass
Enjoy 30 minutes of riding at a reduced rate and free unlocks for 24 hours for £3.99. The price per minute in this option is around £0.13. This works for both e-scooters and e-bikes.
Monthly subscriptions
You will also be able to subscribe to monthly passes which give you a limited number of minutes to ride each month. See below the monthly options. This will work for both e-scooters and e-bikes.
Long-term rentals
You will continue to get exclusive access to an e-scooter with unlimited travel, for £40 per month.
Compare all options below
| Name | Minutes included | Cost per minute | Unlock cost | Total cost |
| --- | --- | --- | --- | --- |
| Pay per ride | On-demand | £0.16 | £0.99 | On-demand |
| Commute pass | 30 minutes to use within 24 hours | £0.13 | Free | £3.99 |
| Monthly 150 | 150 minutes per month | £0.13 | Free | £19.99 |
| Monthly 300 | 300 minutes per month | £0.10 | Free | £29.99 |
| Monthly 500 | 500 minutes per month | £0.9 | Free | £44.99 |
---
New scheme special discounts
Special discounts will continue to be provided, this will include:
Blue Light card holders (includes veterans)
NHS employees
University students and staff
Apprentices
Those on low incomes
Refugees and Asylum seekers
Disabled people
Over 65s
---
New scheme safety measures and general rules
The same rules and safety measures will apply to the new e-scooter scheme. Particularly, riders will still be required to be at least 18 years old and have a full or provisional driving licence.
A feature of the new contract is improvements to parking for e-scooters and e-bikes to address concerns around obstruction on footways, particularly from people with access needs. Some parking zones identified as particularly busy will be more visibly prominent to reduce clutter, as well as having strictly enforced maximum capacity measures. One hundred designated bike racks will be implemented across the region, while measures such as on-road parking bays are also being considered.
---
Sign up to receive updates from TIER
---
Current Bristol e-scooter hire scheme
For information about the current Bristol e-scooter hire scheme, follow the link below.