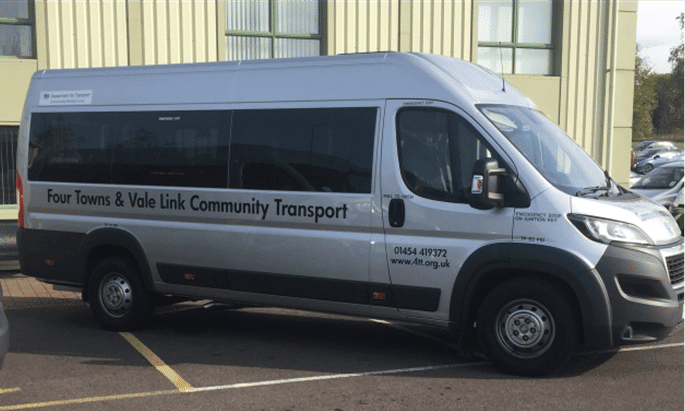 Providing transport to those members of the community who, for whatever reason, cannot use existing transport services.
Jump to:
Available services
Operating area
Please note that the map below is merely indicative and you should always contact the operator to confirm that your location is within their operating area.
Almondsbury
Alveston
Aust
Bradley Stoke
Charfield
Cromhall
Falfield
Filton
Frampton Cotterell
Hallen
Hill
Oldbury on Severn
Olveston
Patchway
Pilning
Rockhampton
Severn Beach
Stoke Gifford
Thornbury
Tortworth
Tytherington
Winterbourne
---
Group vehicle hire
Whether you are part of a community group, sports group or need transport for a church outing, there is a range of vehicles to hire at very competitive rates, ranging from smaller MPV'S to minibuses as large as 18 seats. Some are wheelchair accessible.
Community groups and charities groups from outside the operating area are welcome.
Registration process
Contact the office for a registration form. The registration fee is £24.
Booking process
To book contact the office Monday to Friday, between 9:00 and 14:00.
---
Registration and booking process for individuals
Registration process
All services provided to individuals require registration and a membership fee.
To become a member, contact the office or download the form from their website.
Membership costs £15 per year.
Booking process
To book transport contact the office, Monday to Friday, between 9:00 and 14:00.
48 hours advance notice is required.
---
Voluntary car scheme
Volunteers drive their own vehicles to help take members shopping and to their medical appointments. This scheme is available as and when there are volunteers available.
Call the office for a quote and to book.
---
Door-to-door services
Ring and Ride, a door-to-door service which picks up members from their home and takes them to any destination. Members are then picked up again at an agreed time and taken back to their home.
This service is available Monday to Friday, between 9:00 and 14:00 and a return journey within the operating area costs £5.
Trips further afield, such as to a hospital outside the operating area, may incur a slight price increase.
---
Outings and day trips
Outings and day trips include journeys to local pubs, garden centres, shopping centres and cafes.
Occasionally there are Summer and Winter specials to lots of exciting places (visiting places further afield).
Contact the office or visit their website for a current list of trips.
---
Additional services
MIDAS training is available for anyone interested in learning how to drive a minibus.
The programme enhances and brings awareness skills to the thousands of drivers, passengers and volunteers using minibuses through the course of their work. As everyone agrees the task of driving a minibus requires skills over and above those required to drive a car.
Our Vehicles are fully accessible with the correct specialist equipment enabling us to train prospective drivers on how to use the tail lift and secure someone who is in a wheelchair.
Find out more about MIDAS training on their website.
---
Contact
---
Disclaimer: Please note that the information provided on this page was supplied by the community transport operator. Costs and terms of use are set by operators and we cannot accept responsibility for incorrect or outdated information as unplanned changes may occur. If you find an error on this page please let the operator know.