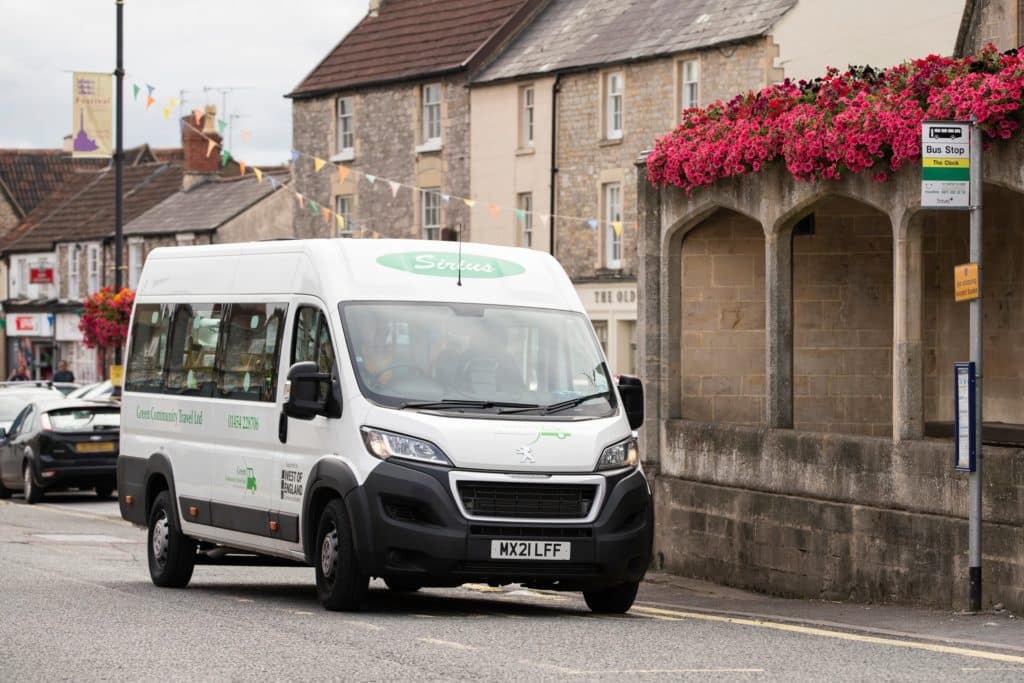 Green Community Travel is a charitable non-profit organisation that provides safe, affordable and accessible travel for individuals and groups who are unable to use public transport and would otherwise have no other way of getting around.
Jump to:
Available services
Operating area
Please note that the map below is merely indicative and you should always contact the operator to confirm that your location is within their operating area.
Badminton
Chipping Sodbury
Coalpit Heath
Codrington
Cromhall
Emersons Green
Frampton Cotterell
Frenchay
Hawkesbury
Horton
Iron Acton
Little Sodbury
Old Sodbury
Pucklechurch
Rangeworthy
Tormarton
Wapley
Westerleigh
Wickwar
Winterbourne
Winterbourne Down
Yate
---
Group vehicle hire
Voluntary and community groups can become members of the scheme and are then able to hire vehicles. Groups from outside the operating area are also welcome to enquire. Groups can provide their own driver or alternatively the scheme can see whether one of their volunteers is available to drive.
Registration process
Groups need to complete a group membership form (these are available via email or post – contact Green CT to get a form). Annual membership is £30 (this covers January to December).
Booking process
Vehicles can be hired on any day of the week. If you need a volunteer driver as well, they are mostly available Monday to Friday daytimes, however some are happy to drive on evenings and weekends. The more notice you can give when requesting a booking, the more likely it is that both a vehicle and a volunteer driver (if required) will be available.
To request a booking call or email Green CT to let them know when you would like to hire the vehicle from and until, the size of vehicle you require and whether you need a driver to be provided. If a driver is needed then also include details of pick-up points and times. If you are providing your own driver then you will be asked to send a copy of the driver's licence and MiDAS certificate. That driver will then need to pick up and drop off the vehicle at the depot at the agreed time.
Hiring cost
| PERIOD | VEHICLE Charge | DRIVER CHARGE (IF DRIVER REQUIRED) |
| --- | --- | --- |
| Full Day (5+ hours) | £75 plus £0.20 per mile | £96 |
| Half Day (up to 5 hour period) | £50 plus £0.20 per mile | £48 |
| Weekend (Saturday & Sunday) | £130 plus £0.20 per mile | Groups must provide their own drivers for weekend usage. |
| Week (5 days – subject to availability) | £330 plus £0.20 per mile | Groups must provide their own driver for week-long usage. |
Please note: Prices correct as of September 2022 but subject to review in early 2023. Full information will be given when you join or make enquires.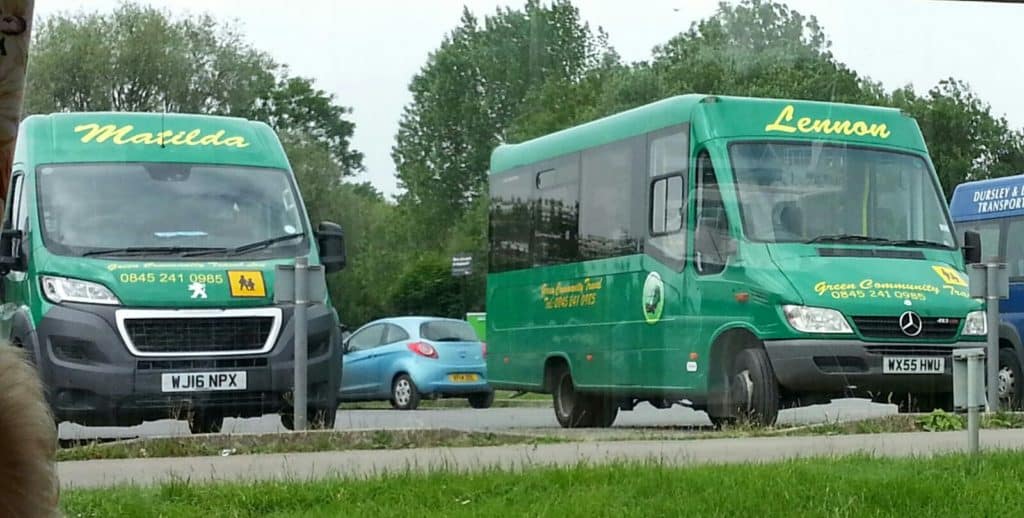 ---
Registration and booking process for individuals
Registration process
All individuals need to become members before using any of the services listed below. Membership is £20 per year (£10 from July onwards) and runs from January to December. Passengers can join over the phone and then be sent a membership form containing a loyalty card and the scheme's terms and conditions and privacy notice.
Booking process
Passengers can book in advance by calling 01454 228706 or 0845 241 0985, or by emailing [email protected]. Medical appointments are given priority. As much notice as possible is required, particularly for hospital appointments.
---
Voluntary car scheme
As much notice as possible is required to enable communication with all volunteers, each booking is discussed individually with volunteers.
Drivers will wait up to 1.5 hours for passengers, or they can do a double journey (they would go home and return for you when called).
There is also a hospital scheme to take people in accessible cars, the charges are different for this as there is a set fare.
Costs for using voluntary car
The charge to a user is made up of a £1.50 administration fee and a 50p-per-mile contribution to the driver's expenses.
---
RING-AND-RIDE
Ring-and-Ride is Green CT's main transport service for individuals. The service is available Monday to Friday from 07:30 to 17:00 and allows people to request travel between two points of their choosing.
Where can I travel to and from?
You can book transport to a variety of places, including medical appointments, shops, hairdressers and much more. The operating area map shows the main places transport is offered to and from.
If you live outside that area but close by it is worth getting in touch, although priority is given to those living in the area. The transport destination should also be within the operating area, although it is still worth getting in touch if transport is needed to outside the area as this may still be possible via either Ring-and-Ride or the voluntary car service.
Transport is provided to hospitals including those in Bath and Bristol using the Voluntary Car and Hospital Service. Voluntary Car can also be used for special journeys that are out of the area. The Friends of GCT Trips sometimes travel further afield.
How do I book a journey?
Journeys need to be booked in advance, usually at least a working day before and preferably before that if possible. Return journeys are usually booked at the same time as outbound journeys. If you have a same-day travel request it is still worth calling in case something is available. Passengers can be offered repeat bookings, although flexibility is required to help provide transport to as many people as possible.
Once a booking is confirmed, you will be given a pick-up time. The driver may arrive 15 minutes before or after that time, so please be ready in advance. The driver can come to your front door to help you board the bus if needed, just request this when booking.
Cost for using Ring-and-Ride
| DISTANCE FROM HOME TO DESTINATION (IN EACH DIRECTION) | Charge FOR BUS PASS HOLDERS | CHARGE FOR OTHERS |
| --- | --- | --- |
| 0-5 miles | £5.50 (return fare) | £7.50 (return fare) |
| 5-10 miles | £6.50 (return fare) | £8.50 (return fare) |
| 10-15 miles | £7.50 (return fare) | £9.50 (return fare) |
Please note: Prices correct as of September 2022. These may change, but full information will be given when you join or make enquires.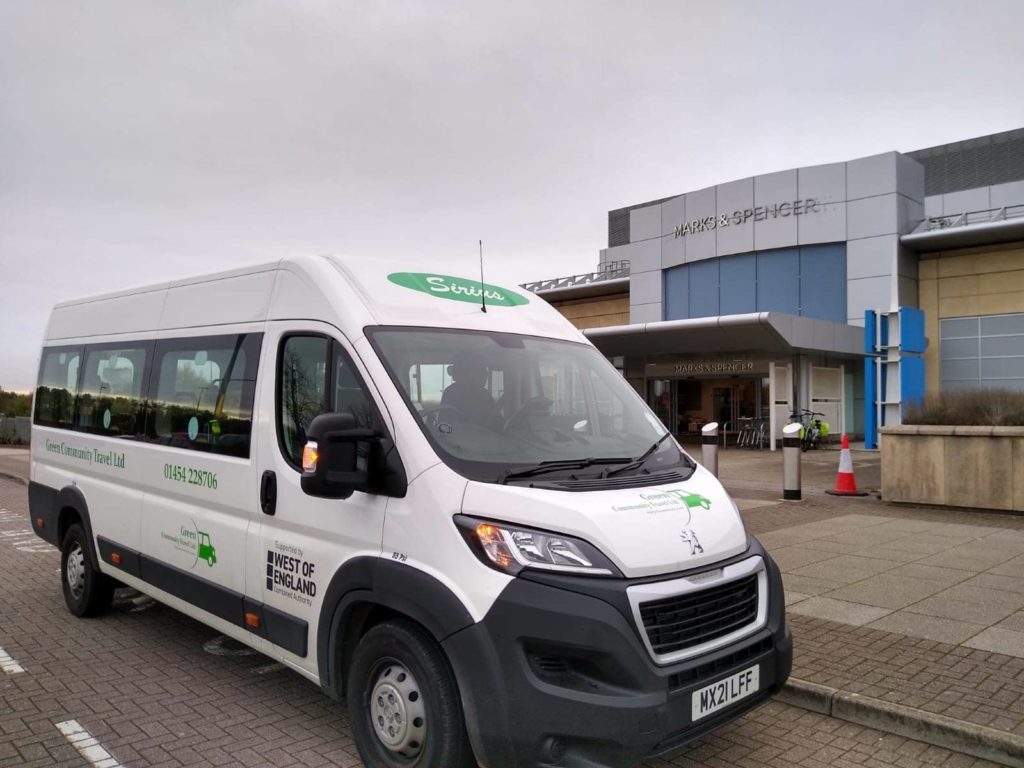 ---
Outings and day trips
The programme changes monthly and suggestions from passengers are welcomed. Trips are a mix of pub lunches, garden centres, shops and local attractions.
A list of planned outings and costs is updated on the website on a monthly basis, as well as on the Facebook page. There is also a mailing list available. Passengers can also get a copy from the bus when travelling or call to ask about the outings.
Whilst the trips are targeted at members living in the operating area, friends who are visiting a member can go with them on a trip if they pay the fare.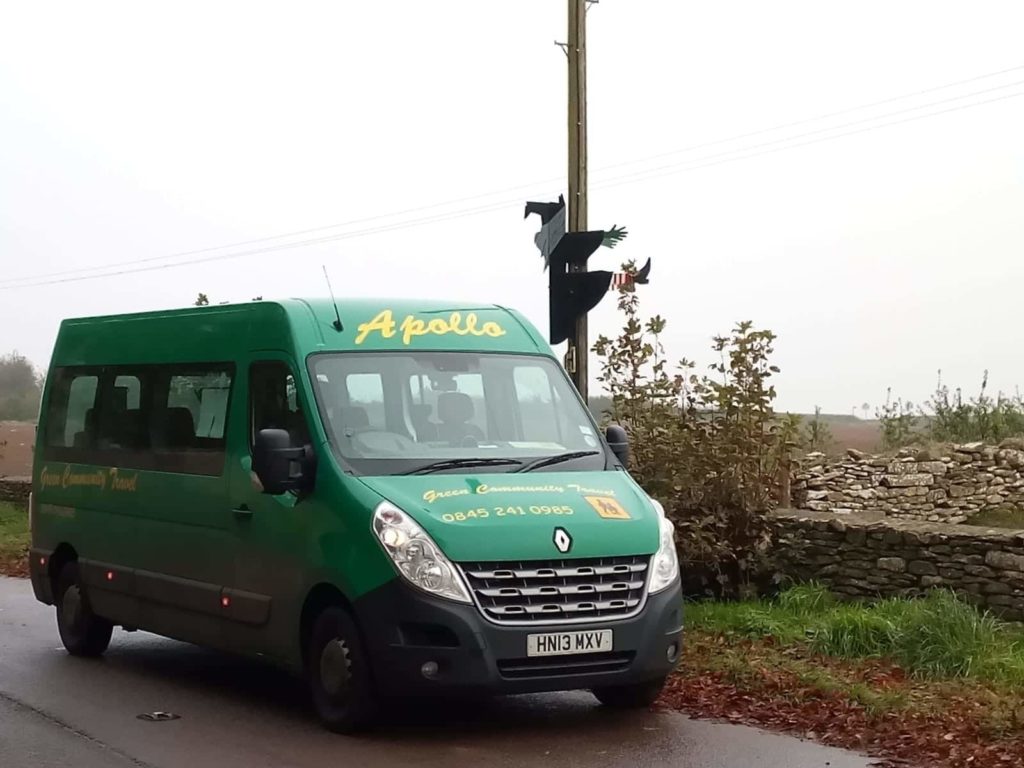 ---
Contact
---
Follow on social media
---
Disclaimer: Please note that the information provided on this page was supplied by the community transport operator. Costs and terms of use are set by operators and we cannot accept responsibility for incorrect or outdated information as unplanned changes may occur. If you find an error on this page please let the operator know.