Improvements to the number 2 bus route (A37/A4018)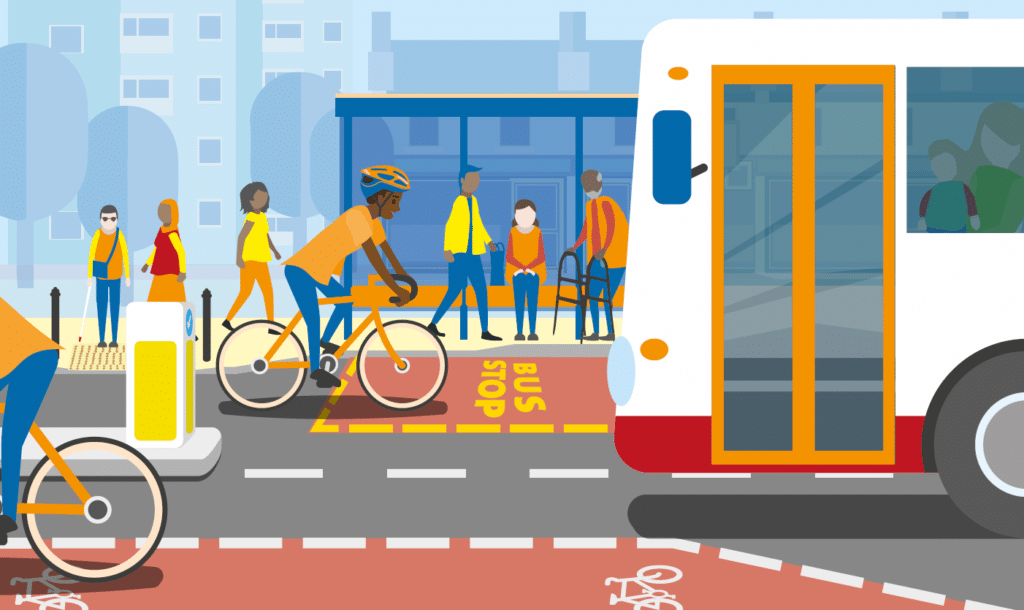 To build a more inclusive and connected city, Bristol must tackle the challenges surrounding travel. With high levels of traffic congestion and harmful air pollution levels, there's a sense of urgency to tackle these issues to improve public health. Establishing an improved transport system which is accessible to everyone in Bristol is equally critical.
Over the next 10 to 15 years Bristol and the West of England Combined Authority have committed to developing and improving bus services as a priority for the region, in collaboration with bus operators.
Buses are an essential service getting people to school, college or university, work, sport and leisure activities and they play an important role in connecting people and communities. Through radical changes to bus infrastructure, we aim to achieve shorter journey times and increased reliability on bus travel.
We want to make changes to some of the major roads across the city to make it easier for people to take the bus, and to walk or cycle. It's part of plans for a transformation of Bristol's road network, introducing quicker and more reliable bus travel, cleaner air, and improved walking and cycling routes.
The number 2 bus route or the A37/A4018 is the major route that we are now looking at and is one of eight routes identified as needing transport improvements.
The proposals look to achieve:
bus infrastructure improvements to help buses move quickly through the traffic improving journey times and reliability.
better pedestrian spaces providing safe crossing points and attractive streetscapes.
reallocation of road space for cyclists to make it easier and safer to cycle
Our aim is to provide a better travelling experience for those who take the bus, cycle or walk, to encourage more people to choose to make the switch, which will help reduce congestion and improve air quality.
Jump to…
The route
The route starts in Cribbs Causeway and travels through Henbury, Southmead and Westbury and heads south on the A4018, down Park Street and into Cabot Circus. It passes Temple Meads and travels along the A37 through Windmill Hill, Knowle and Hengrove finishing in Stockwood.
Early engagement
In 2020 we asked for suggested improvements to this route.
More information about the early engagement and the report is on the Bristol City Council survey website.
Consultation proposed designs – Have your say
We have considered the feedback from the early engagement and now want your feedback on our proposed improvements to the number 2 bus route (A37 / A4018).
You will be able to find out more about the proposed designs and have your say online in this interactive map.
To help you understand the proposals we have divided the route into three areas: North, Central and South. In the survey, you will be able to view the proposed improvements and answer some questions about each section of the route.
There are also images of what some areas might look like where there are proposals to improve public space and alternative route maps to help you see how traffic will move around the area.
Please comment by 28 January 2022.
Map of the sections
North section (1): starts at the South Gloucestershire boundary on Station Road, goes along Knole Lane to Southmead Road, onto Henleaze Road, over the Downs and onto Whiteladies Road by Tyndall's Park Road.
Central section (2): Starts at the bottom of Whiteladies Road, goes down Park Street, through Cabot Circus, over Bristol Bridge, along Victoria Street, past Temple Meads and onto Bath Bridges.
South section (3): Starts at the Three Lamps junction on A37 and follows the Wells Road through Knowle, past Airport Road, onto West Town Lane and into Sturminster Road.
Drop-in information sessions
All of the drop-in sessions in December 2021 have been completed. We have planning to continue to run drop-in sessions in January 2022 so that you can talk to someone about the proposed improvements, but these will be dependent on any COVID restrictions in place at that time.
Please keep checking this page as the information will be updated depending on any restrictions that may be brought in.
If you have pre-registered a place at any of our January sessions you will be notified by email if the face to face sessions are cancelled. We will then run an online version of the meeting and will email everyone that has registered with a link to a virtual meeting which you can attend instead.
Please remember that pre-registration is essential if you wish to attend one of these drop-in sessions. To attend, please register for a place by clicking on the relevant Eventbrite link located within the table.
These have been organised on weekdays and weekends in each area of the route:
Bristol North
This table provides further information about drop-in sessions such as date, time and locations in the Bristol North area.
Bristol Central
This table provides further information about drop-in sessions such as date, time and locations in the Bristol Central area.
Bristol South
This table provides further information about drop-in sessions such as date, time and locations in the Bristol South area.
Online presentations
There will be two online presentations of the proposed transport improvements.
Monday, 20 December 2021, from 6pm to 7.30pm
Thursday, 6 January 2022, from 6pm to 7.30pm
If you wish to attend one of the presentations, please register for a place by emailing:
[email protected] and quoting 'A37/A4018 virtual meeting' in the email title along with the date of the meeting you want to attend.
You can also phone, using the contact details below, and leave a message to register a place. Please provide your name, email address and date of meeting you wish to attend.
A meeting link will be sent back to your email address confirming your place.
Contact us
If you have a query, would like the survey in an alternative format, or wish to find out more about the project you can:
Write to: Transport Engagement Team, PO Box 3399, 100 Temple Street, Bristol, BS1 9NE;
Email:

[email protected]

;
Answerphone: 0117 9036449 and leave your name, contact details and request.
---
Further information