Part of Henbury rail line: MetroWest Phase 2
The proposed new station at Ashley Down is part of a wider MetroWest 2 project which will re-open the Henbury Line, between Bristol Temple Meads to Henbury, to passenger traffic.
The MetroWest 2 project, includes construction of three new railway stations – Ashley Down, North Filton and Henbury – and introduction of new services to Henbury and Gloucester. This project forms part of the wider MetroWest rail programme which represents an irreplaceable element of the Combined Authority's economic growth strategy and efforts to de-carbonise the transport network in our regions, including encouraging a modal-shift from roads to trains.
Should the project be fully funded and constructed, the following are the anticipated benefits of the scheme:
The new stations will support the development of over 8,500 new homes.
7 million minutes of travel time will be saved each year through more efficient journeys
By 2030 MetroWest 2 is expected to be remove 3 million kilometres from the road network, based on an average petrol car today this is equivalent to 500 tons of C02 each year.
1.3 million people will travel on the new services each year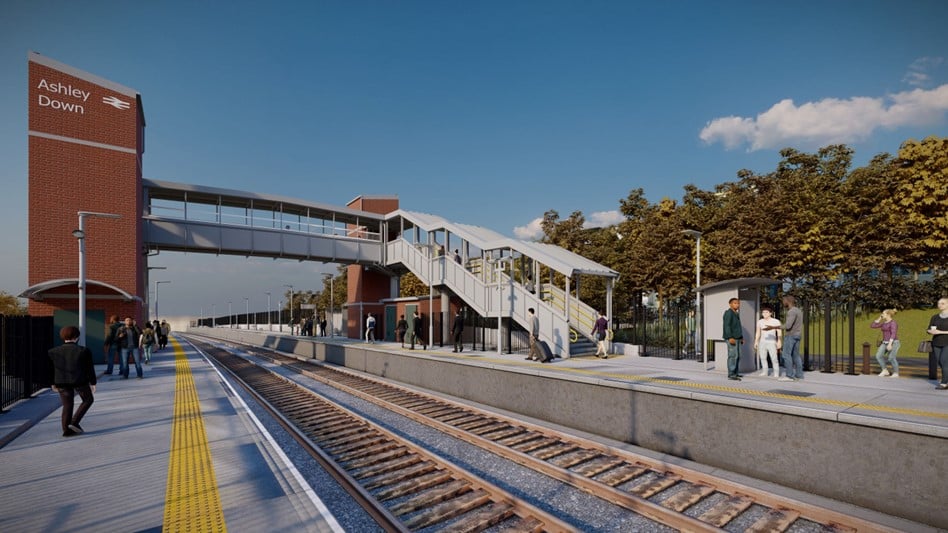 Ashley Down Station is the first of the three new stations that are planned to be built. Funding for the project was approved in January 2023. Design works are nearly complete and in summer 2022 the station received 'prior approval'. This is the planning consent process by which Network Rail receive permission to reopen previously closed stations. Works to construct the station will commence in March 2023 and are currently programmed to be complete in 2024.
The project partnership includes the West of England Combined Authority working with Bristol City Council, Network Rail, Great Western Railways and contractors BAM Nuttall. Works will be carried out by accredited contractors on behalf of Network Rail and Bristol City Council.
Jump to:
---
Project information
The new Ashley Down Rail Station is located on the site of the previous Ashley Hill Station. Its location makes it easily accessible for people living locally.
The station entrance will be located on Concorde Way where the path meets Station Road in Ashley Down, Bristol. The route to the station from Muller Road and Station Lane, will be via the existing subway footway. This gives access to the entrance on Station Road/Concorde Way.
Station construction works are likely to start in March 2023, following Full Business Case Approval. West of England Combined Authority and Bristol City Council are working closely with Network Rail to finalise the station design and construction programme. Once these activities have been completed, an updated station opening date will be confirmed.
---
Frequently asked questions
The station is located on the old Ashley Hill station footprint, on the Filton Bank railway line. The station platform is adjacent to Concorde Way and accessible via Station Lane and Station Road, with one entrance through Concorde Way which takes you directly onto Platform 1. Cycle parking is provided with a separate entrance.

The project is being led by a collaborative team of representatives from the West of England Combined Authority, Bristol City Council, Network Rail, Great Western Railways and key suppliers, including BAM Nuttall. West of England Combined Authority are the primary funder, Bristol City Council are leading on improvements to the station access, Network Rail are delivering the main station works and Great Western Railways will ultimately be the station operator. All parties are working closely together to ensure that interfaces are well managed, and the project is delivered effectively and efficiently.

MetroWest is an exciting and ambitious programme of railway enhancements being funded by the West of England Combined Authority. The scope of the programme includes new stations and the introduction of new and additional passenger services.

The scope of MetroWest Phase 2 includes the construction and opening of 3 new stations, Ashley Down, North Filton and Henbury, the addition of a half-hourly Bristol Temple Meads to Gloucester rail service and the extension of the existing Bristol Temple Meads to Filton Abbey Wood rail service through to Henbury Station (Once North Filton and Henbury stations are ready to open).

An initial concept design was shared with the local community as part of local engagement, led by Bristol City Council. Since then, the current design for the station was submitted and approved via Bristol City Council planning authority in summer 2022. As part of this process, there were opportunities for members of the public to give their feedback on the designs and the design team were challenged to make changes to ensure the station was in-keeping with the local surroundings. This resulted in a number of changes including ensuring that brickwork on the lift shafts matches local buildings, and an open effect on the bridge deck and stairwells to provide a more open feel.

Where possible, lessons learned and best practice from other station projects being designed and delivered by Network Rail have been adopted to ensure that the station proposal is fit for purpose.

Yes, the pedestrian tunnel will still be in place upon completion of the project. The route from Station Road down through the subway will be modified and improved as part of Bristol City Council's station access improvement works.

The station has been designed to allow for electrification in the future. However, there are no formal plans or timescales for any future electrification on this route at present.
The piling works will be undertaken between March – July 2023, and predominately during daytime hours 08.00 – 17.00. It will be necessary for some piling works to be undertaken during overnight track closures. The piling noise will be comparable to that of a medium sized excavator and noise monitoring will be carried out during the works, to ensure that we are compliant with the Section 61 application.

The project team will be proactively engaging with local community groups and schools about the project.

The old platforms will be removed and disposed of. We will not be providing archaeologists on site.

There are no proposals for this as part of the final station design.

Latest technologies have been incorporated into the design including energy efficient lighting, sensored lighting and a public address system. The platforms are modular construction resulting in approx. 30% less embodied carbon than typical platform construction.

No, the blockade will cover the relief lines only (the two closest lines to Concorde Way).

For the station works, all construction parking will be in the Fairfield High School lower courts. This is where our main site compound will be located. Site vans will still be required to access Station Road, however there are no plans for construction parking in Station Road.

Construction is set to begin around early March 2023.

Due to the complexity of the project, the remaining programme risks to be managed and the fact that we are in the very early stages of the project delivery, we cannot commit to an opening date at this point. The project team are confident that the station will be opened in 2024 and all efforts are being made to ensure that the station is opened as soon as possible.

An extended blockade of the railway has been secured in June 2023. Productive use of this access is essential to the timely delivery of the works.

Predominantly the works will be undertaken between the following days/times. Monday to Friday 07.00 – 17.30; Saturday 23.00 – Sunday 08.00.

There are a number of weekend track closures booked where works will be undertaken 24/7.

Concorde Way closure starts – 5th March 2023
Site Mobilisation – From 27th February 2023 [Daytime working]
Piling works – March – July 2023 [Daytime working]
Footbridge Foundations – March – August 2023 [Daytime & night-time working (during railway closures)
Main Railway Closure/Blockade (No Operational Trains running) – 3rd – 19th June 2023

Track works
Platform installation

Footbridge Installation – Autumn 2023 [Night-time working during railway Possessions]
Mobilisation of public realm access works – Late Summer/Autumn 2023
Completion of Station works and public realm access works – Spring/Summer 2024
Station Opening – 2024

The majority of large material deliveries will be taken to site via the rail network. e.g. via the Road Rail Access Point located adjacent U-Drive on Petherbridge Way. Other deliveries will be taken to site using small vans, where practical.

Predominately Muller Road, as the main compound is located on Station Lane, and the road rail access point located on Petherbridge Way. Only small vehicles such as site vans will utilise Station Road.

The method of piling [Sectional Flight Augur] was specifically selected to minimize impact to our lineside neighbours. i.e. non percussive. Acoustic barriers will be erected where static plant is being operated. Light pollution will be minimized by only using lighting when required and ensuring they are directed away from adjacent properties. Spray canons will be used to dampen down aggregate prior to use, preventing airborne dust particles. Road sweepers will be deployed regularly and at increased frequency during where construction traffic is increased.
Details of tree removal planned as part of the project can be found in the Arboricultural Report available online on Bristol City Council's Planning site – Application Reference 21/03523/RA

Bristol City Council will maintain the area where the access improvements are proposed, including landscaping.

To complement the access improvements plan, with advice from Bristol City Council's Ecologist, a draft landscape plan has been prepared and is being further refined by Bristol City Council's Landscape Architect. The plan is sensitive to the existing habitat and ecology taking care for planting to include native flowering hedges, meadow grassland, spring flowering bulbs, trees and shrubs. Bird and bat boxes will be placed within the access improvement scheme area.
The CCTV in operation within the station area is managed by Great Western Railways and will operate 24/7 and is used for the purpose of security and crime detection working with the British Transport Police. Outside of the station, CCTV is managed by Bristol City Council.

We will look into the use of anti-graffiti coating on certain surfaces and apply if deemed appropriate. The project team continue to explore products that may minimise the impact of graffiti.

Some design choices, such the use of brick for the lift bridge rather than cladding, will help discourage but not eliminate the risk. Great Western Railways will have day to day responsibility for managing the site and it will be visited by their team who carry out maintenance and repair.

Yes, the shelters on each platform have seating and a space for a wheelchair user.

Great Western Railways colleagues on each of our trains are on the lookout for any issues at stations and can report issues for attention, including when raised by customers. We have a dedicated team who regularly carry out maintenance at stations including bin emptying, ticket machine stocking and checking for vandalism in the Bristol area and they cover a number of local stations. We also have regular Planned General Inspections made by the area's station manager who will identify any ongoing or recurring issues.

The station platforms and footbridge are covered by lighting and CCTV. The lighting will be lowered after the last trains but will remain on at a low level. The footbridge has an open design, to make this feel safer for users. The cycle parking area is also covered by lighting and CCTV.
A Resident's Parking Scheme is not being considered as part of the project.

As part of the Prior Approval Submission, a Transport Statement was prepared by AECOM which is available online on Bristol City Council's Planning site Application Reference 21/03523/RA. The report includes predictions about how people will travel to the station. The report found "Ashley Down station will have a negligible impact on the local highway network due to the extremely low proportion of trips made by car. It has been demonstrated that the station is accessible by foot and by bike, particularly using Concorde Way and along relative quiet residential streets in the local neighbourhood. The station will also be located less than 400m from bus stops serving high frequency bus routes. Forecasting indicates there will be limited demand for and impact on parking supply in the areas around the station. It is on this basis that the local transport network is considered to have sufficient capacity to accommodate an increase in demand arising from the proposed development." (21_03523_RA Transport Statement, AECOM, June 2021.)

Bristol City Council's design, which reflects the recommendations of an independent road safety audit, proposes a total loss of up to 8 existing car parking spaces to accommodate double yellow lines and a loading bay.

The project team have undertaken modelling work, using software recognised by the Department for Transport, which calculates the likely demand for the new station over the years after it is opened. This work has supported the business case for the project. This is not an exact science, and through our rail industry colleagues we will actively monitor demand following the station opening to see if we have achieved the demand levels anticipated.

Timescales proposed for accessible parking spaces will be 24/7 in line with accessible parking bay timings throughout the city. There will be an opportunity to comment as part of the Traffic Regulation Order statutory consultation process.
Concorde Way Closure/Diversionary Route
Boiling Wells Lane improvements include making the section from the farm up to Muller Road less muddy and more level. Improvements will also feature installation of a new gate to allow bike users through, improvements to the staggered barrier and installation of directional signage.

Bristol City Council are currently continuing to explore options for an improved route on Muller Road for bike users. Further communications will be shared on this once a plan has been finalised.

The closure will start on Sunday 5 March and will be in place for approximately 12 months.
Service Pattern/Operational Station
Not for a direct train, the MetroWest service pattern will see a regular train service along a line of route connecting Bristol Temple Meads and Filton Abbey Wood (and on to North Filton and Henbury once complete). It is possible to reach other stations, including Parkway, through a change of train at Filton Abbey Wood.

Yes, and it will continue through the evening although as train frequency drops it will be less frequent. At night it would only need to inform people of a passing train, so that anyone on the platform can stand back. This is an important safety requirement as trains passing through the platform non-stop, which includes both passenger and freight, present a significant hazard to anyone standing near the edge of the platform.

There will be a help point available at all times which offers access to current information by live link or emergency services in such an event – and we'll ensure it functions correctly.

The line is not electrified and so all trains will continue to run on diesel on this stretch of route. There is a longer-term plan to move away from diesel traction altogether and that will bring about a range of benefits, but at the outset we will be using our Class 165 and Class 166 diesel multiple unit trains, such as those which can already be found on the Severn Beach line.

Yes, this will be available 24 hours a day.

No, this will require a change at Bristol Temple Meads station.

The new station at Ashley Down will have two platforms – one each on the 'slow lines' used by stopping trains. Other trains use the fast lines which bypass the station alongside it and that means that not all trains can call. Planning the timetable requires the new train services to mesh in with the huge range of other trains on the network – not just locally but where they continue beyond and interact with other junctions and services. So the pattern of hourly (half hourly peak time) trains along a set route, in this case Bristol Temple Meads to Filton Abbey Wood and Henbury, offers the best way to ensure services operate at regular clockface intervals and can offer connections onto other lines – just like any other metro network. There are trains to Weston super Mare from the Severn Beach Line, which joins the main line just south of Ashley Down. It is the eventual aspiration for the services from Henbury, through Ashley Down, to be extended through to Portishead, if and when that line is eventually reopened.

There is the option to change there, yes.

They won't be 24 hours, there will be a gap in service between late evening and early morning and details will be confirmed within the timetable/journey planners once finalised.

Once the Bristol Temple Meads to Filton Abbey Wood services, serving Ashley Down, are extended to Henbury, the nearest stations would be either North Filton or Henbury, both would require a walk.

As a Metro operation, trains every 15 minutes would of course be desirable, but that is challenging to achieve. The line is busy with a mixture of long distance trains, freight and trains which have paths along the fast lines which pass by the station. Whilst frequency and convenience go hand in hand, it is not possible to push to four trains per hour due to capacity and resources. The proposed service pattern at the outset is the optimum we can achieve currently, balancing amenity and constraints. However, longer term consideration will continue to be given to ways to potentially enhance the service.
Bristol City Council will primarily use its Facebook and Twitter accounts to post updates about the works.

In the first instance, if you have any questions or concerns about our work, please contact Network Rail's 24-hour national helpline on 03457114141 or visit www.networkrail.co.uk/contactus.

As an alternative, you can contact Transport Engagement at Bristol City Council by emailing [email protected] or by phoning 01179036449 and leaving a message on the answerphone.

In the first instance, if you have any questions or concerns about our work, please contact Network Rail's 24-hour national helpline on 03457114141 or visit www.networkrail.co.uk/contactus.

As an alternative, you can contact Transport Engagement at Bristol City Council by emailing [email protected] or by phoning 01179036449 and leaving a message on the answerphone.
---
Contact us
In the first instance, if you have any questions or concerns about our work, please contact Network Rail's 24-hour national helpline on 03457114141 or visit www.networkrail.co.uk/contactus.
As an alternative, you can contact Transport Engagement at Bristol City Council by emailing [email protected] or by phoning 01179036449 and leaving a message on the answerphone.

Or you can complete the form below.
---
More information about MetroWest
Ashley Down Station and MetroWest 2 form part of an exciting railway enhancement programme being delivered in the Combined Authority region.
Plans are to introduce seven new railway stations in the region over the next 5 years – Portway, Ashley Down, North Filton, Henbury, Pill, Portishead and Charfield.
The MetroWest programme is also proposing to introduce a number of new railway services including enhanced services to Severn Beach, Westbury, Gloucester, Henbury and Portishead.