Bristol School Streets: St Peter's C of E Primary School
St Peter's Church of England Primary School in Bishopsworth was one of the council's first pilot schools launched as part of the Bristol School Streets scheme.
The main aims of the Bristol School Streets pilot are to:
reduce the volume of traffic around the school gates.
improve road safety for pupils and their families.
encourage more pupils to walk, scoot or cycle to school.
improve the air quality and environment at the school gates, making it a more pleasant space for everyone.
Bristol City Council worked closely with St Peter's CofE Primary School and launched the trial scheme in February 2020.
This involved turning Ellfield Close, the road directly outside of St Peter's CofE Primary School, into a walking and-cycle only zone, for short periods at the beginning and end of the school day.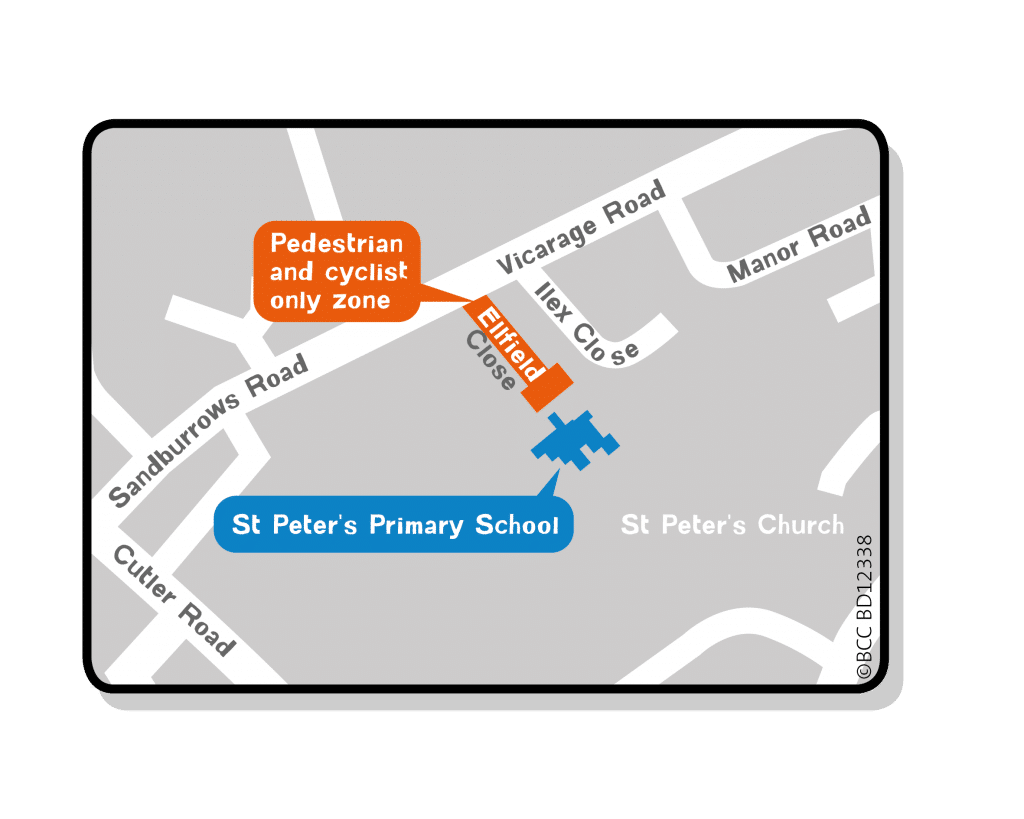 The pilot School Streets scheme was launched in February 2020 and operated under a Temporary Traffic Regulation Order (TTRO). Following a formal consultation that took place between 28 October 2021 and 19 November 2021, the decision was made to make the scheme permanent by the introduction of a Traffic Regulation Order. This came into effect on 14 March 2022.

From 14 March 2022, the scheme will be active on weekdays, during term-time for 35 minutes in the morning and 30 minutes in the afternoon. The exact timings of the closure are between 08:30 – 09:05 in the morning, and 15:00 – 15:30 in the afternoon, from Monday to Friday and during term-time only.

This is a slight reduction to the closure times during the trial period. The aim is to make it easier for staff to manage the barriers alongside other school responsibilities, whilst still ensuring the road is closed to non-essential vehicles during peak pick-up and drop-off times.

Residents of Ellfield Close were invited to apply for a permit to allow vehicle access during the School Streets zone operating times. If you have an old permit (before August 2022) or have moved into Ellfield Close and would like to apply for a resident's permit please use the following link to apply for an access permit.

No – parents or carers dropping children at school will not be eligible for an exemption. We are pleased that many parents are embracing the scheme and are choosing to walk, cycle or scoot where possible.

Certain exemptions do apply, including emergency services and blue badge holders. Residents and carers of residents on the street are able to apply for an access permit.

Yes – if you are a carer who regularly supports a resident within the zone, you may eligible for an exemption. Please email us to let us know about your personal situation.
Contact us
For other queries
If you have a specific query, that has not been answered in this page, please contact us via the below email address.
---
This scheme is part of Bristol Schools Streets