Delivering what you want, when you want it.
Jump to…
What is freight consolidation?
Freight consolidation is where many suppliers have goods delivered directly to a place (consolidation centre or delivery hub) where it is stored and then when needed is combined into a single fuller load for the onward journey, for example into the city centre.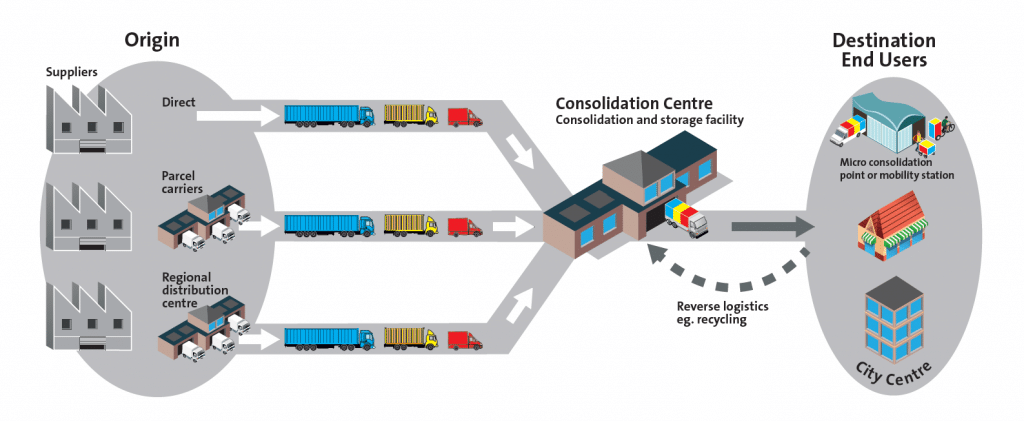 How does freight consolidation work?
Have your goods delivered to a consolidation centre or delivery hub, instead of your business address.
Goods can be stored there until needed.
Your separate packages are combined with other goods for more efficient transit as it will be a fuller load making the onward journey.
Delivery is made as agreed which can be at a time of your choosing, as a regular schedule or as a next day delivery.
Packaging can be returned for recycling.
Why consolidate freight?
Bristol City Council and its partners want to create a sustainable, inclusive and growing economy. It is recognised that road freight is one of the main ways of transporting goods and is necessary to a successful economy; however it brings with it several issues in terms of:
air quality
congestion
noise
wear and tear on road surfaces
environment
safety of vulnerable road users such as pedestrians and cyclists
localised problems can occur for example where inappropriately large vehicles are used, or inconsiderate loading blocks roads or pavements
DfT estimates that between 2015 and 2050 LGV traffic will increase by up to 108%, HGV traffic will increase by up to 12%.
Freight consolidation is a way of removing freight related vehicles from our roads; this helps to reduce the negative impacts associated with road freight, which are often experienced most by people living in areas of deprivation. At its peak, a 70% to 80% reduction in the number of onward trips was seen by the freight consolidation scheme subsidised by Bristol City Council to serve the central area between 2004 and 2018. This meant that for every 10 vehicles that made a delivery to the consolidation centre, just 2 or 3 onward journeys to the central area were made. The return trip provided the opportunity to return packaging materials for recycling.
Benefits
Users of freight consolidation have seen benefits such as:
Cost savings – bulk buy discounts, discount negotiated with suppliers due to reduced delivery costs, greater buying power through collective or collaborative procurement.
Support access/delivery restrictions
Help control the quantity and flow of goods being delivered
Improve environmental credentials and help achieve sustainability objectives
Maximise other opportunities – ie ensure vehicles are full both ways
Benefits for Bristol include:
Improved air quality
More efficient and sustainable movement of freight within the city
A reduction in the number of freight vehicles moving through the city, improving congestion
A reduction in noise pollution caused by passing vehicles
Less wear and tear on road surfaces
Improved safety for vulnerable road users such as pedestrians and cyclists
Other ways to consolidate and reduce the number of freight related vehicles
Collective procurement is where of a group of organisations or businesses (e.g. members of a Business Improvement District BID or a Chamber of Commerce) individually purchase goods and services from a single supplier or a small number of suppliers. For example, members of a BID purchase all their stationery supplies from a single supplier instead of many different suppliers. By using a single stationery supplier, supplies can be consolidated with fewer vehicles needed to deliver the products.
Collaborative procurement is where a group of organisations or businesses jointly purchase goods and services from a small number of suppliers. For example, one contract per organisation but their orders are combined with other businesses' orders so that deliveries arrive together, on a single fuller vehicle (e.g. delivery to an office block with multiple tenants).
Waste collections can also be consolidated. An example is BID members procuring a single supplier for waste removal and recycling on the same street which will result in a reduction in movements on that street.
Construction consolidation helps to reduce the impact of construction freight.
---
Contact
If you would like to consolidate your freight please contact logistics providers.
For other queries about freight in Bristol please email city.transport@bristol.gov.uk.
---
Further information
Bristol Freight Consolidation Centre Case Study
Download
pdf
Top line: Research indicates that Urban Freight Consolidation Centres have the ability to improve the efficiency of freight transport operations & thereby reduce congestion & environmental impacts of this activity.