Improvements on the A37 and A367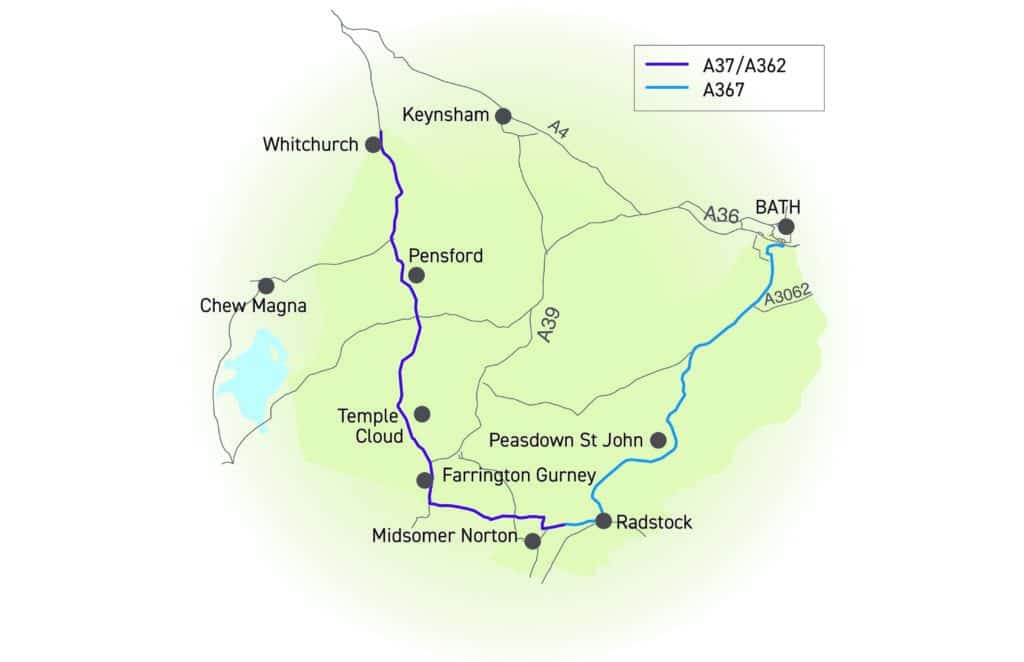 The A37 and A367 Corridor project is being led by the West of England Combined Authority and delivered in partnership with Bath and North East Somerset Council. It aims to improve travel between Midsomer Norton, Radstock, Westfield and Bath via the A367 and Bristol via the A37; through better bus services and enabling more walking and cycling.
The Combined Authority will be putting together proposals for a variety of ways to improve the A37 and A367 corridor. Work will be broken down into phased projects focusing on different sections of the route.
This work is needed because
There is a huge reliance upon cars along the A37 & A367 and both routes are frequently heavily congested;
Journey times are too long because buses get stuck in traffic and access to bus stops is hampered by footways being overgrown or non-existent;
Cycling along the A37/A367 can be challenging, even for confident cyclists due to traffic volumes, including large vehicles, passing close and travelling at high speeds;
There is also little infrastructure that links cycling and bus services together along these routes making interchange between the two difficult;
Narrow sections of the A37 through Pensford and Temple Cloud are not wide enough for large vehicles to pass each other, leading to delays for all traffic;
Farrington Gurney and Temple Cloud have air quality issues;
Accidents occur on the fast sections and junctions of both routes.
The project aims to
Enable people to move away from using cars to improve air quality and reduce carbon emissions along the corridor
Make catching the bus or walking and cycling easier by offering an improved bus service and delivering easy-to-use walking and cycling facilities
Reduce bus journey times and provide more frequent, reliable bus services
Create walking and cycling routes which connect to communities along the corridor
Support opportunities for regeneration and economic growth along the corridor
Improve options for Park and Ride services
Have your say
We want to hear from people who live near, or travel along, the A37 and A367 for work or leisure, including anyone whose main route into Bristol or Bath is via the A37 and A367. We have to prioritise how to use the funding we have for this, your feedback will help us make choices and put together proposals to improve this route.
You can also feedback your views by posting comments on our interactive map.
To request a paper copy or alternate format please call 07436 601889 and leave a message with your details or email [email protected].
Our A37 and A367 survey closes on 19 December 2021. An engagement report and response will be published in early 2022 and future proposals will be shared for public consultation as they are developed.
---
More information
Improving bus services and walking and cycling opportunities in the West of England