Bristol School Streets: Redfield Educate Together Primary Academy
Bristol City Council and Redfield Educate Together Primary Academy are working together to pilot Bristol School Streets.
The main aims of the Bristol School Streets pilot are to:
reduce the volume of traffic around the school gates.
improve road safety for pupils and their families.
encourage more pupils to walk, scoot or cycle to school.
improve the air quality and environment at the school gates, making it a more pleasant space for everyone.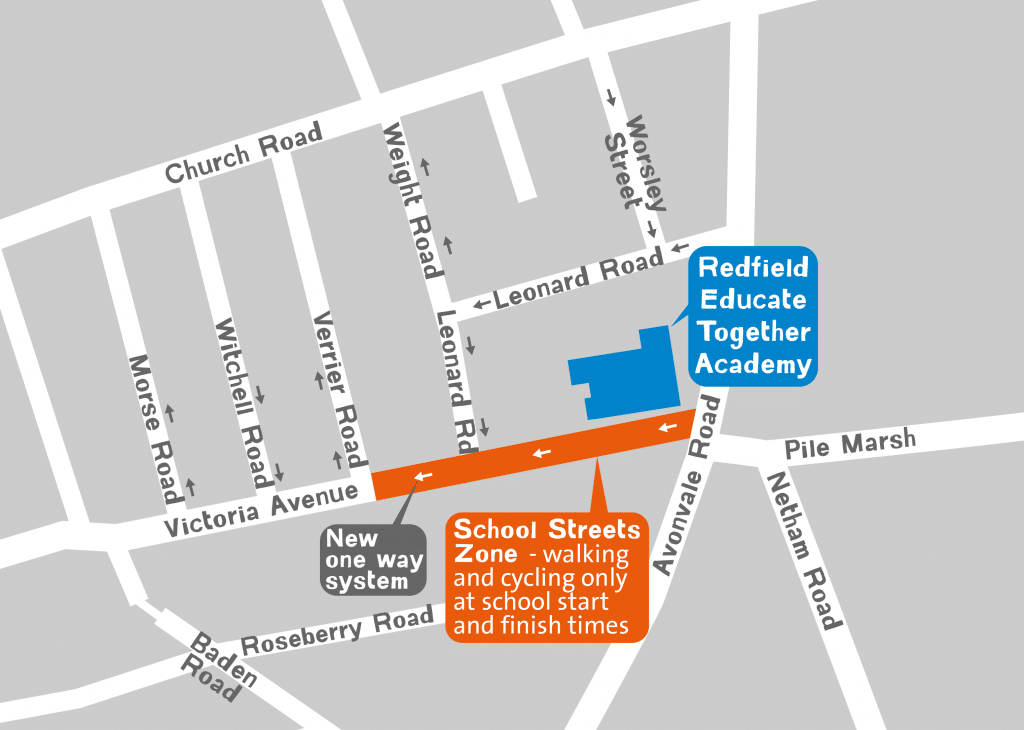 From Thursday 27th May 2021, Victoria Avenue has been closed to vehicle traffic between 08:30-09:15 in the morning and 14:40-15:30 in the afternoon, Monday to Friday, during term-time only.  During these times only emergency services vehicles and Blue Badge holders are permitted to access Victoria Avenue.

To facilitate the implementation of the School Street, a one-way system was also introduced on Victoria Avenue in a westbound direction,  travelling away from Avonvale Road.  The one-way system is in place 24 hours per day, 7 days per week.

The reasons for introducing the one-way system was firstly to allow residents to be able to exit Victoria Avenue during the road closure periods. Secondly, the introduction of the one-way also helps to prevent motorists from driving down Victoria Avenue and getting trapped when discovering the road closure, and therefore having to make dangerous turns in the road.  The one-way system is in place 24 hours per day, 7 days per week for the duration of the School Streets pilot scheme.

Residents of Victoria Avenue are permitted to leave the road in their vehicles during the School Streets zone operating times, but are being asked to avoid re-entering the zone during these short closure periods.

We hope that these changes will improve the traffic conditions on Victoria Avenue and neighbouring roads, and this is something we are monitoring throughout the trial period. We understand from local residents that parking at school start and finish times has been an ongoing issue. By introducing Bristol School Streets and closing the road for short periods of time, we can help to improve road safety and tackle congestion in the area.

If you have any major concerns about resident access, please contact us.

The scheme is active on weekdays, during term time for 45 minutes in the morning at school start time and 50 minutes in the afternoon at school end time. The exact timings of the closure are between 08:30-09:15 in the morning and 14:40-15:30 in the afternoon, from Monday to Friday, during term-time only.

The Bristol School Streets scheme launched in late May 2021 as an experimental trial lasting for up to 18 months. If deemed successful, it may become permanent by the introduction of a Traffic Regulation Order.

The street should be visibly calmer and feel safer during these times. Data is being collected both before the scheme was implemented and during, and includes modes of travel to school data, traffic counts, collision data, parking surveys and feedback from the school and local community.

In addition, an 8-month public consultation took place between 27 May 2021 and 7 March 2022 enabling people to formally comment on the scheme. Together with the monitoring data mentioned above, these comments will be considered before a decision on the future of the scheme is made.

Blue Badge holders are exempt from the scheme and can use Victoria Avenue Road to access their properties when needed. We ask that Blue Badge holders display their Blue Badge clearly in the windscreen of their vehicle and they may be stopped and asked to confirm their details on some occasions.

We are asking people with additional access requirements and those with disabilities to contact the team on [email protected] to discuss any personal access needs as they may be eligible for an exemption permit.

No – parents or carers dropping children at school will not be eligible for an exemption. You can only be granted an exemption if you are a resident of Victoria Avenue or if you or your child are a blue badge holder. We are pleased that the majority of parents are embracing the scheme and are choosing to walk, cycle or scoot where possible.

Yes – if you are a carer who regularly supports a resident within the zone, you may eligible for an exemption. Please contact us to let us know about your personal situation.

A Bristol School Streets phone line has been set up to accommodate exceptional requests where access is required at a given time. The number is 0117 357 6228. By calling this number you can speak with a member of the Bristol School Streets project team to arrange for an exemption. We ask that you try and give the team 24 hours notice on any access requirements.
Have your say
The experimental order, plans and statement of reasons are available at: www.bristol.gov.uk/trafficorders.
The eight month public consultation period closed in March 2022, and the results are being considered alongside other data collected both before and after the trial scheme was launched.
As part of our evaluation we invited local residents, parents and carers, local businesses and others who use and visit the area to share their views by taking part in a short survey. The survey closed on 13 April 2022 and the results are now being analysed.
For other queries
If you have a specific query, that has not been answered in this page, please contact us via the below email address.
---
This scheme is part of Bristol Schools Streets