Bristol School Streets: Wansdyke Primary School
Wansdyke Primary School in Whitchurch was one of the council's first pilot schools launched as part of the Bristol School Streets scheme.
The main aims of the Bristol School Streets pilot are to:
reduce the volume of traffic around the school gates.
improve road safety for pupils and their families.
encourage more pupils to walk, scoot or cycle to school.
improve the air quality and environment at the school gates, making it a more pleasant space for everyone.
Bristol City Council worked closely with Wansdyke Primary School and launched the scheme in February 2020.
This involved making School Close, directly outside of Wansdyke Primary School, into a pedestrian and cycle only zone, for short periods at the beginning and end of the school day. The timings of the closure are 08:30 – 09:15 in the morning, and 14:45 – 15:30 in the afternoon, from Monday to Friday and during term-time only.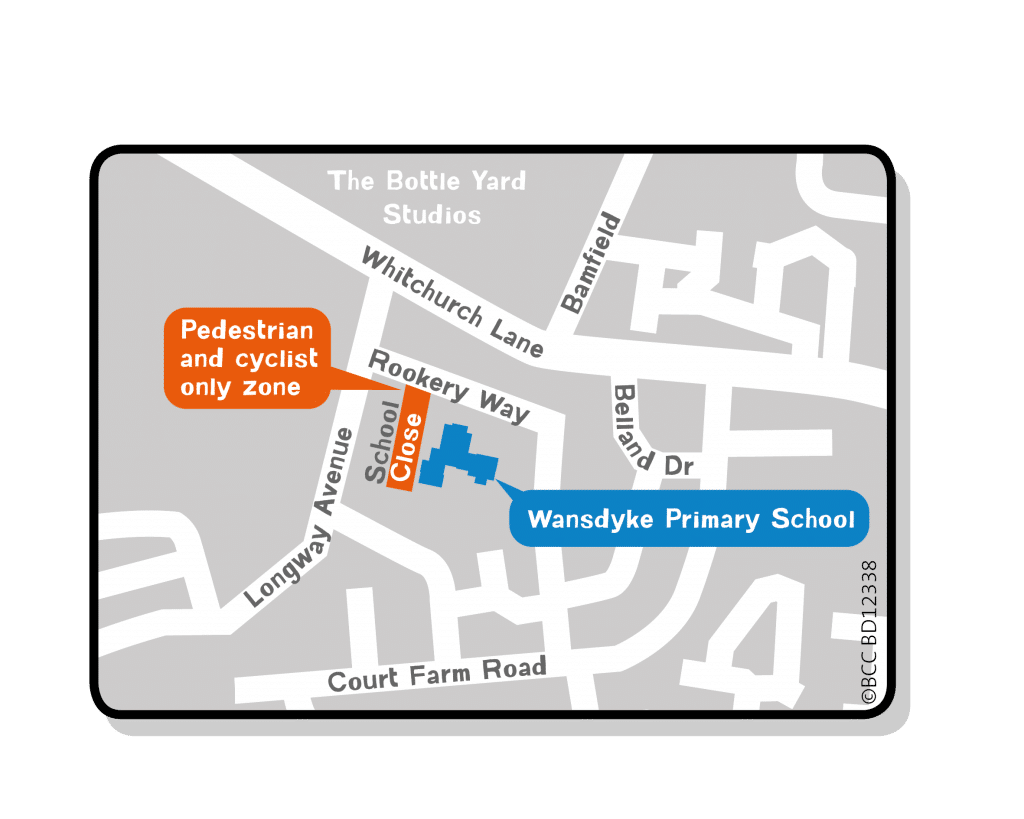 The Bristol School Streets pilot scheme was launched in February 2020 and will be reviewed at 18 months. If deemed successful, it may become permanent by the introduction of a traffic regulation order.

The scheme is active on weekdays, during term-time for 45 minutes in the morning at school start time and 45 minutes in the afternoon at school end time. The exact timings of the closure are between 08:30 – 09:15 in the morning, and 14:45 – 15:30 in the afternoon, from Monday to Friday and during term-time only.

Residents of School Close were invited to apply for a permit to allow vehicle access during the School Streets zone operating times. If you have moved into School Close and would like to apply for a resident permit please email us.

Blue Badge holders are exempt from the scheme and can access School Close when needed. We ask Blue Badge holders to display their Blue Badge clearly in the windscreen of their vehicle and they may be stopped and asked to confirm their details on some occasions.

No – parents or carers dropping children at school will not be eligible for an exemption. You can only be granted an exemption if you are a resident of School Close or if you or your child are a Blue Badge holder. We are pleased that the majority of parents are embracing the scheme and are choosing to walk, cycle or scoot where possible.

Yes – if you are a carer who regularly supports a resident within the zone, you may eligible for an exemption. Please email us to let us know about your personal situation.
Contact us
Aimee-Claire Eyermann
If you have a specific query, that has not been answered in this page, please contact Aimee-Claire Eyermann, our designated Bristol School Streets Project Manager.
---
This scheme is part of Bristol Schools Streets