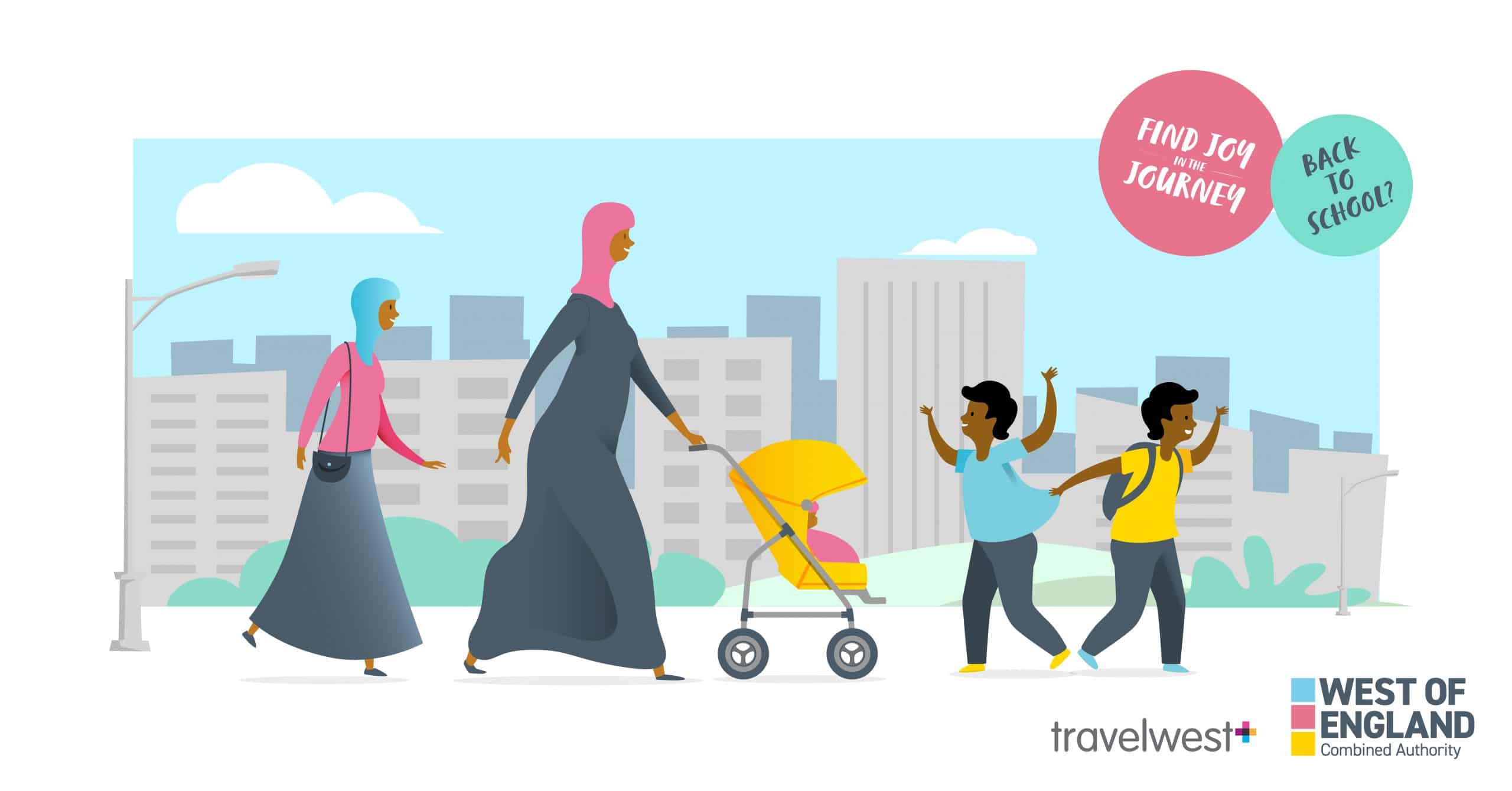 Children heading off to school? Why not start a new habit and walk, cycle or scoot the route.
Travelling with friends and getting some exercise will help parents and children feel energised and ready for the day ahead.
Some great reasons to walk, scoot or cycle to school:
Walking or cycling helps to reduce congestion and pollution and improve safety around the school gates. 
Your child will arrive at school energised and ready to learn.
An active journey to and from school builds exercise into your child's routine and counts towards the recommended 60 minutes a day.
Physical activity can increase concentration and boosts performance in class.
15 minutes exercise can significantly improve a child's mood and help to reduce anxiety and stress.
Children who walk, cycle or scoot to school from an early age have more road sense and an improved ability to travel independently and safely.
Watch a video to find out more
[Music]

Hi I'm Hannah. I live here with my family. [House behind Hannah]

It's always crazy in the mornings and we're never ready when mum wants us out the door.

We used to go to school in the car.

The car was boring. We hardly had time to wake up.

Mum always complained about the traffic.

The man on the radio said 25% of traffic is cars on the school run and my teacher says the air inside the car can be three times more polluted than outside.

It can be hard to cross the road at school with all the cars. Kids and cars don't mix.

Mum said it was time for a change, so now we cycle to school with our friends and some days I walk with them.

It's a lot of fun chatting with them before we get to school.

It's nice to feel independent. Even on the odd day when we have to get a lift, we get dropped off a short way from school.

Dad calls it a park and stride. It makes it safer by keeping the cars away from the front of the school. Dad says it gives him a head start on the traffic too.

When I get to school I am wide awake and it's easier to concentrate. And I'm helping to reduce pollution.

To find out more visit the website:

www.travelwest.info/schools

Please follow current Covid-19 Public Health Guidance.

[Music]
Find out more about walking and cycling routes, and support available:
Our walking section offers plenty of tips, advice and resources.

The Better By Bike website is the regional resource for everything cycling. From advice and tips to route maps, it has everything you need.

Living Streets offers specialised advice, tips and support for students and parents wanting to start walking to school.

Sustrans offers specialised advice, tips and support for students and parents looking to travel actively to school.
---
More advice
Public Transport
If students are using public transport, they should continue to follow government guidelines to ensure they can travel safely on the network. They should plan their journey in advance and allow more time to get to their school or college.
The requirement to wear face coverings in law has been lifted. However, the Government expects and recommends that people wear face coverings in crowded areas such as public transport. If students are over 11 years old, and are not exempt, they should continue to wear a face covering on public transport,
---
More resources
Our schools engagement teams have shared some additional resources which you may find useful.
Gallery
If you'd like to help spread the word, please find below a collection of "Back to school? Find joy in the journey" promotional images which you can use on your website or social media channels.