Universities Travel Marketing Toolkit
We produced a travel marketing toolkit which gives practical advice and resources on how to encourage students to travel more sustainably.
The toolkit is informed by research, trials and a marketing campaign undertaken at The University of the West of England (UWE) & the University of Bristol (UoB) between 2013 and 2014. It is designed for use by both these universities and other Higher Education institutions in the West of England region.
Some of the brands and images in this toolkit are owned by the West of England and can be used with permission.
Jump to:
---
How to use this toolkit
The toolkit is designed to provide guidance, resources and tools to develop marketing initiatives, and also offers research and insight, and lessons learned, from the experience of implementing a sustainable travel campaign.
Advice & guidance, research & planning tools and campaign materials

Primary research into travel behaviours of the target audience and segmentation model

Review and learnings of the 2014 Bristol Campaign, outline of approaches, evaluation and lessons learned
---
Downloads
Complete Marketing Toolkit
Download
pdf

PDF approximately 10.67 M
Shorter version: Campaign Process & Resources
Download
pdf

PDF approximately 3.89 M
---
Definition of sustainable travel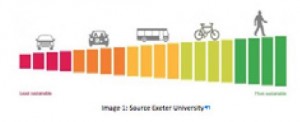 Sustainable travel is defined as a mode of travel that makes a positive contribution to the environmental, social and economic sustainability of the community.
As a short-hand, sustainable transport can be categorised using the 'Sustainable Transport Hierarchy'
---
More information

Toolkit produced by James Morvan in conjunction with The University of the West of England and The University of Bristol
Funding provided by The West of England Local Sustainable Transport Fund