How to Catch a Bus (Easy Read)
How to Catch a Bus Video
[low beat music]

[Bus service 6 to Kingswood drives past. The side of the bus reads "How to catch a bus"]

[at the park]

Beth: I really hope David gets his job.

[David exiting a door with a sign above it reading Park Cafe]

Beth: Oh it will be so exciting.

[David arrives at the park]

Beth: Well, did you get it?

David: I got a job!

Beth: Yay! [hugs David]

David: Alright, alright! You're crushing me! Get off!

Beth: Well done. Now, how will you get there?

David: You could drive me.

[Beth laughs]

Beth: Hoo! I can't drive.

Beth: You have to get the bus.

David: What? Oh no… What? Oh no…

Beth: David, it's OK. I'll show you… [puts hand on David's shoulder]

Beth: Ok, come on. [both walk away together]

[road scene with bus service number 43 approaching]

Beth: Let's check out where we are and the bus stop.

[on a street near a bus stop]

Beth: So this is the bus stop you need to get off, for work. [points at bus stop]

Beth: There's the cafe. [points at the cafe]

Beth: And there's the bus stop you need to go home from OK? [points at bus stop on the other side of the road]

David: Yes.

[traffic noises, both start walking away from the bus stop]

[standing in front of a library]

David: But how will I know when to get off the bus?

Beth: So here's the library, [points at library building]

Beth: up there is the bus stop. [points down the road]

Beth: When you see the library, you need to press the bell [makes hand gesture]

Beth: and it will give you enough time to get off at your stop, OK?

[David nods in agreement]

David: What bus do I catch?

David: How much do I pay the driver?

David: What if I get on the wrong bus and end up in Spain?

[Beth laughs]

Beth: Spain! Oh I wish…

Beth: It's OK relax, I can show you.

[both walk towards the library]

[all sitting at a desk] Library assistant: So you're all logged in now?

Beth: Yes.

Library assistant: Great, we're just over at the desk if you need any more assistance.

Beth: Thank you.

Beth: What's your address?

David: Tenniscourt Road.

[Beth typing Tenniscourt Road into a journey planner on the computer screen]

Beth: And where are you going to?

David: Spain. [smiles]

Beth: [laughing] Spain?!

[Beth laughs]

Beth: That's a long way isn't it?

Beth: [typing] I think I'll write Park Cafe, Civic Centre, in Kingswood, yes?

Beth: You've got several choices of bus routes but I think for you the number 43 is the easiest.

[road scene with bus 43 approaching]

Beth: You can get this bus from the Tennis Court Inn.

Beth: You known where it is, don't you?

[both walking towards a bus stop with people waiting]

David: Yes, I do.

Paul: What are you doing here?

David: I've got a new job, I'm catching the bus to work.

Beth: And it's his first time.

Paul: Oh OK. Which number?

David: 43

Paul: Ah…

Beth: And don't forget your money…

David: Oh yes money. [pats bag]

Paul: I'll catch the bus for you.

Paul: You put your arm like this.

[low beat music, Paul stretches both arms towards the road]

[David turns towards the road and stretches his arm]

[Bus number 43 arriving at the bus stop]

[Both men holding their arm out towards the road and bus heading to the bus stop]

[The bus reaches the bus stop and slows down, both men lower their arms]

[From inside the bus we can see the door opening and everyone starts boarding the bus]

Paul: Alright, mate?

Bus driver: Morning Paul.

Paul: How's it going?

Bus driver: Fine, thank you.

[Paul pays for the bus fare, bus driver hands him his ticket]

Paul: Thank you.

[Paul and bus driver nod to each other]

Bus driver [to David]: Morning.

David: Morning, can I have a Day Rider please?

Bus driver: [typing in ticket machine] £4 please.

David: There you go. [puts money on shelf]

[bus driver types into ticket machine, paper ticket is printed and driver picks it up]

Bus driver: There we go. Thank you. [hands ticket to David]

Beth: Morning.

Bus driver: Morning.

[Beth holds travelcard to the ticket machine]

[bus driver picks up paper ticket and hands it to Beth]

Bus driver: Ok. Thank you.

[Beth and David sitting down]

Beth: Keep your ticket safe, you'll need it to get home.

David: What's that? [image shows an orange card holder, Beth opens it]

Beth: It's my bus pass.

David: Can I get one?

Beth: Yeah, you can get one from the Council.

David: I will do that then.

Beth: Good.

[bus driver checks everyone is sitting down and starts driving]

[bus leaving the bus stop]

[low beat music]

Woman on bus: Being able to catch the bus is great, it gives me independence.

Interviewer [off screen]: Do you travel by bus?

Man on bus: Yes, I do. [smiles]

Interviewer [off screen]: And do you like it?

Man on bus: Yes. [smiles]

Man on bus 2: I have been using the bus for four years. I use it to get to work and I like doing it. [smiles]

Woman on bus 2: I get the bus to go shopping and to visit my friends.

Man on bus 3: I catch the bus to go to the gym. Check this out! [flexes arm muscle and smiles, man behind him covers his mouth and laughs]

Man on bus 4: I've got this great app on my smart phone. It tells me where I am and when exactly my next stop is coming up.

Man on bus 5: Catching the bus can be really confusing at first but if you catch it a few times, it can be really easy.

[low beat music]

[Beth and David sitting next to each other on the moving bus]

David: [pointing outside] Oh look, there's the library.

Beth: Press the bell then.

[David starts to get up, Beth holds his harm]

Beth: No, no, sit down. You've got to wait for the bus driver to stop otherwise you'll go flying.

David: Yes, good idea Beth.

[bus arriving at bus stop]

[David and Beth get up from their seats to exit the bus]

[Beth gets off the bus and turns around to look inside]

[David gets off the bus and joins Beth, they both walk away from the bus]

[menu of Park Cafe]

Narrator: One week later…

[Beth enters Cafe, David is wiping down a table, there are people sitting on other tables]

Beth: Hello, David. [smiling]

David: Oh Beth!

[Beth and David hug]

David: I owe you a coffee.

Beth: Oh, thank you.

David: Sit down, I'll bring it to you now.

Beth: [sitting down] Lovely.

[David pouring coffee in a mug]

[David walks toward the table where Beth is sitting, carrying a mug and a small plate with a cupcake]

Beth: Thank you, David.

David: You're welcome.

Beth: So how was your first week on the buses?

David: [smiling] It was great Beth, it was a piece of cake.

Beth: Oh good.

David: Get it? It's a joke. It means it was easy. It means it was a piece of cake.

Beth: I know.

David: You didn't laugh loud enough. Shall we do it again? It was a piece of cake.

Beth: Oh just give me the cake!

[music]

[David sets the cupcake down on the table]

[image changes to cupcake, with a star shaped icing top which says "Thank You" in orange letters]

Thank you to: Brandon Trust Learning Disabilities; Living a live; Park Cafe; First; Misfits; for their help in making this film.

[Image changes to David and another man in a kitchen putting cupcakes on a tray]

[Image changes to group video of everyone]

David: Catching the bus is…

All: a piece of cake!

A Redweather production for Travelwest www.travelwest.info
---
1. Ask a friend to help you. You can also ask your council for help:
---
2. Plan your journey with the help of your friend.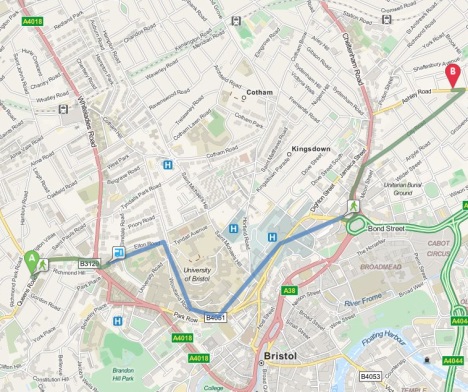 ---
3. Find out what time your bus arrives at the stop. Be there a few minutes before.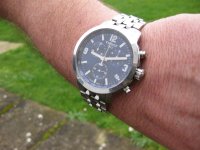 ---
4. Take some money to buy a ticket. If you have a learning disability you may be able to get a free bus pass from your council: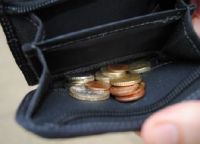 ---
5. Find your nearest bus stop. Ask a friend to go with you and show you the way.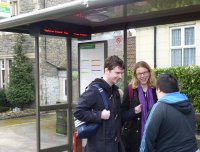 ---
6. When you see the bus, hold your arm out. This will let the bus driver know that you want the bus to stop.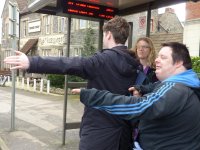 ---
7. Tell the driver where you would like to go. The driver will tell you how much you need to pay and give you a ticket.
You can also use your bus pass if you have one (see 4. above).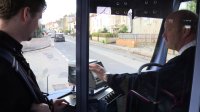 ---
8. Sit down and enjoy the ride. Keep your ticket or bus pass safe. Do not lose it.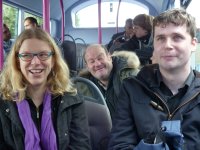 ---
9. If you are not sure where to get off, ask the driver.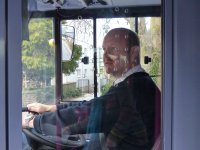 ---
10. Press the bell if your bus stop is the next one. Remember to press the bell before arriving at the bus stop so the driver has time to stop.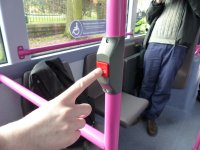 ---
11. Wait until the bus stops before getting up to go out.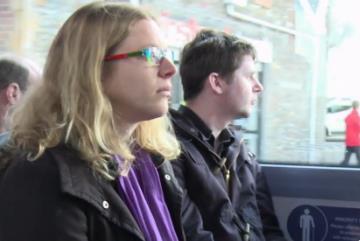 ---
Useful Documents
These documents may not be accessible for people using assistive technology. Please use this contact form if you require assistance.
How to Catch a Bus (Easy Read)
Download
pdf

PDF approximately 338.86 K
If you need help communicating, use our Safe Travel Cards
Download
pdf

PDF approximately 85.47 K