Discover new places and ways to get around in Lyde Green.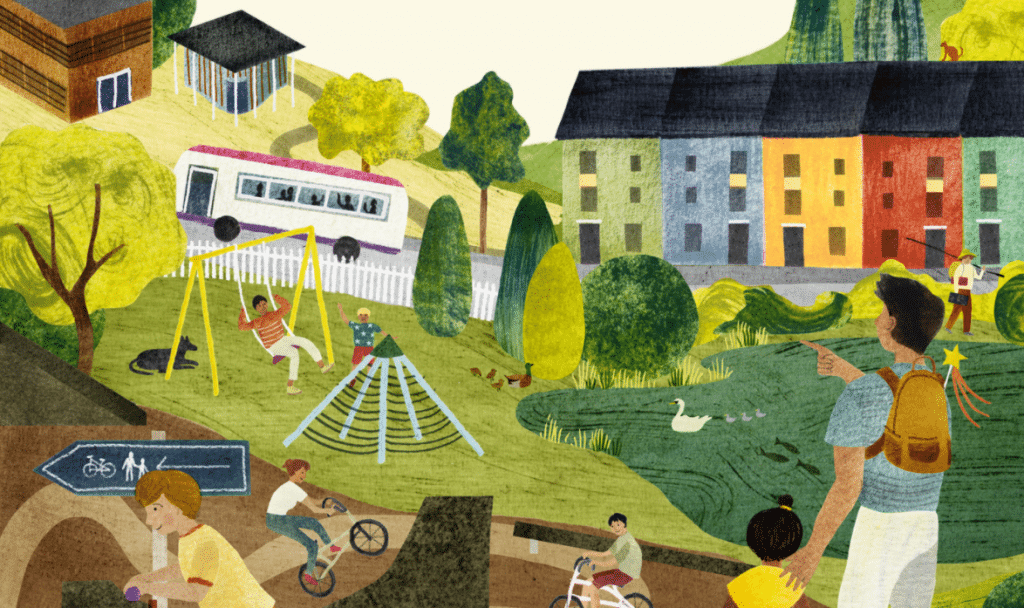 Discover the hidden gem of the Leap Valley river walkway, enjoy a picnic on Lyde Green Common or stretch your legs – and bike wheels – with a mini adventure on the Bristol and Bath Railway Path. Lyde Green is bursting with outdoor spots to enjoy and nearby green spaces to explore.
Lyde Green benefits from rapid metrobus connections to the city centre, a community Car Club vehicle and the new rapid charging hub at the adjacent Science Park. The Bristol and Bath Railway Path connects directly to neighbourhood via the Ring Road cycle link, providing a quiet and way-marked active travel route all the way to both Bristol and Bath city centres.
Jump to:
---
Discover Lyde Green – illustrated map
Discover Lyde Green is your starting point for getting to know the neighbourhood in and around Lyde Green, its outdoor spaces, transport links, walking routes and community. The free illustrated map highlights some of the great places and spaces on the doorstep for Lyde Green residents, nice local walks and features for getting around. We took recommendations from local people to help new residents get to their neighbourhood and encourage people to get out on foot and by bike.
Explore the interactive map online by clicking the banner below, or to request a printed copy, contact us using the contact details at the bottom of this page.

---
Transport in Lyde Green
Lyde Green benefits from a range of transport links and services.
Community Car Club
Enterprise Car Club runs a community car club vehicle for Lyde Green, located in the Park & Ride facility on Willowherb Road. See below for more information and an exclusive offer for Lyde Green residents.
metrobus
Lyde Green is served by the m3 metrobus route, providing a rapid, frequent and high-quality bus link with Bristol city centre and UWE Bristol Frenchay campus.
m3 / m3X route, timetable and fares

General info on the metrobus network
Lyde Green Park & Ride – Local bus hub
Lyde Green's Park & Ride on Willowherb Road provides a transport hub for local bus and metrobus services. Parking is free for those using a connecting bus service, and all the bus services serving the facility are available to the public without the need to park. There is also sheltered cycle parking available.
Local bus services
Several local bus services serve Lyde Green, stopping at the Park & Ride, the adjacent Science Park or on stops along Willowherb Road and Jenner Boulevard.
Bristol and Bath Railway Path
Just a few minutes from Lyde Green is the Bristol and Bath Railway Path, a famous greenway for walking and cycling, linking the cities of Bristol and Bath. The route provides a wide, traffic-free and varied route to a variety of destinations along the way.
Local cycling routes
As well as the Bristol and Bath Railway path, Lyde Green links with the Ring Road cycle path (providing an East to West segregated cycle route to Filton) and many other local cycle routes.
Walking routes and groups
Lyde Green has a friendly and active walking community, with regular buggy walks and walks for health. See recommended walks and walking group info on South Gloucestershire's One You web hub:
---
Lyde Green Covid-19 Travel Survey
We are currently inviting Lyde Green residents to participate in a short travel survey to find out more about how Covid-19 is impacting travel in new residential areas in South Gloucestershire. The survey asks residents how they are intending to travel in the future when social-distancing restrictions begin to ease. It is also an opportunity to request our free travel offers.
During December 2020 and through to March 2021 we will be inviting all residents by letter to complete the survey online. You can also contact us to request a paper copy.
We will publish headline results here in Spring 2021. There is also a prize draw for 12 x £25 Amazon vouchers to thank all participating residents for their time to complete the survey.
You can also participate in the survey using the below link.
---
Community Car Club – Exclusive offer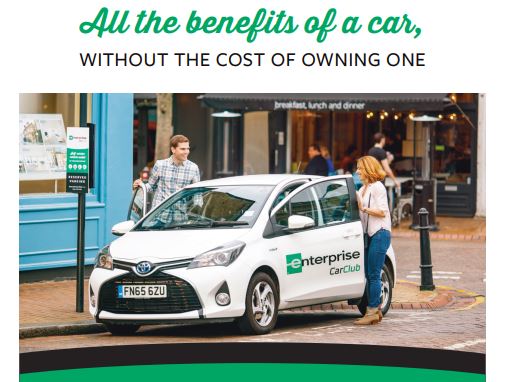 Enterprise Car Club runs a community car club vehicle for Lyde Green, located in the Park & Ride facility on Willowherb Road. The car works like a short-term rental car, operated through a membership scheme providing key-less access to the car 24-7, giving you all the benefits of a car without the costs of owning it.
Download car club flyer
Download
pdf
Lyde Green residents are currently being offered 4-years free membership (a saving of £240) and £50 driving credit. Use the promotional code LGREEN or use this link to access the exclusive offer: Lyde Green members Enterprise car club offer.
---
Bicycle User Group
Bicycle User Groups or 'BUGs' are a great way to link up with other cyclists in your area to share ideas and concerns with the local authority department responsible for transport facilities and policy.
Lyde Green BUG is a forum for local bike users to help shape cycling investments in the area, share cycling-related comments and questions, or simply to link up with other residents interested in cycling. Please contact us using the details at the bottom of this page for more information on how to get involved with the BUG.
The next Bicycle User Group meeting will be a drop in Microsoft Teams virtual meeting on Wednesday 31st March 12-1pm. If you would like to attend, please email Helen Harrison on [email protected] and she will send you the link to this meeting.
---
Contact Us
South Gloucestershire Council
Transport Policy