Business travel information.
Cabot Park is conveniently situated for road access to major motorway links to Wales, the South West and the Midlands, making it an ideal location for logistics and distribution businesses located there. There are a large number of vehicles coming into the site which produce carbon emissions and other pollutants, which are harmful to the local environment.
Many of the organisations in the area have corporate social responsibility policies to reduce such impacts including encouraging suitable travel to work. This not only has an environmental impact, it can benefit health and save money.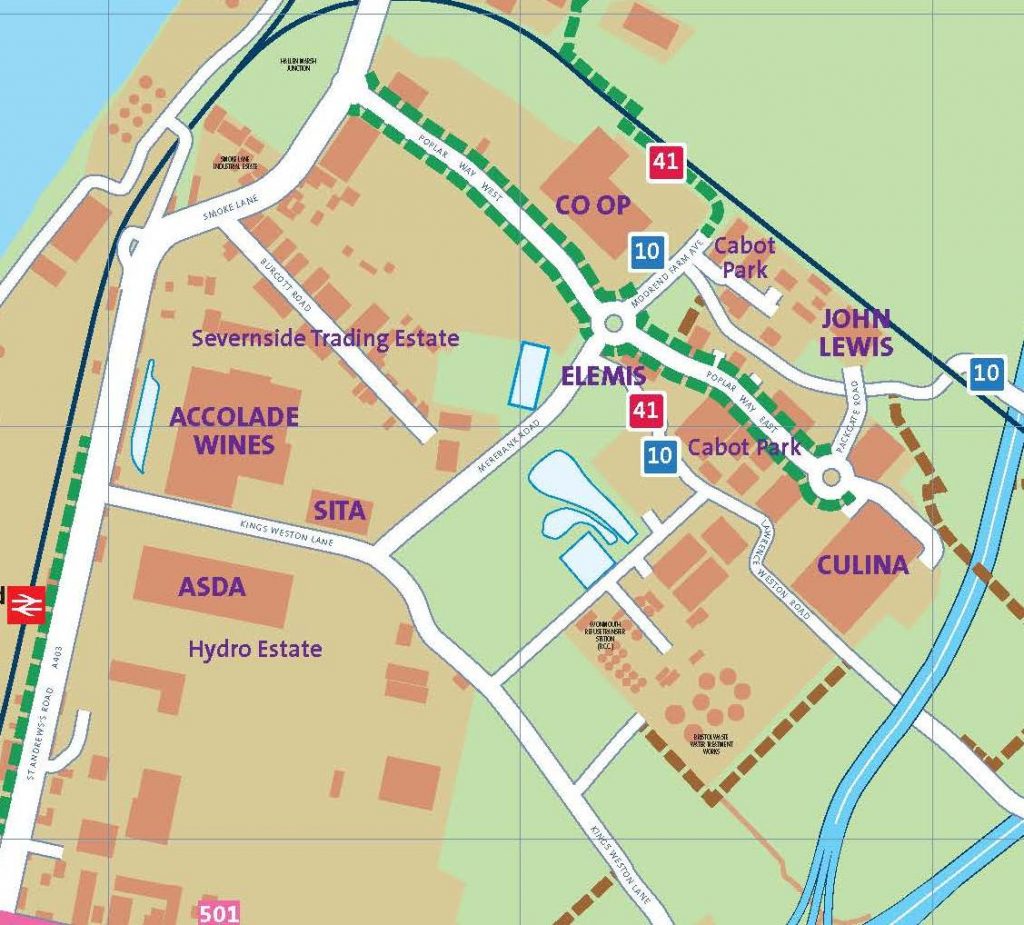 Getting to Cabot Park by bus
The nearest bus stop is approx.1km away by Accolade Wines on Kings Weston Lane (see map below) and is served by the no. 3 (former no. 41) First Bus between Cribbs Causeway and Bristol city centre (Broadmead), via Avonmouth.
Journey Planning
Plan your journey by all modes of public transport except airplane! Travelwest's journey planner is available here.
The journey planner will provide you with route options and door to door journey times to enable you to complete your journey.
It also offers bus and rail live arrivals and bus route maps and timetables.
Bus real time information
If you have a smart phone, please have a look at our recommendations on bus real time information apps.
Timetables and route maps
Whether you're a commuter, student, tourist or a local bus service user, all timetable and route information for registered bus services operating in the West of England can be found on our timetables online tool.
Getting to Cabot Park by rail
The area is served by direct trains (approximately every hour) from Bristol Temple Beach Meads on the Severn Beach service to Severn Bridge.
St. Andrews Road railway station is approximately 1.5km away, with eight services a day.
Avonmouth railway station is further away (approx. 2.5km), but has more frequent trains (hourly service).
Cycle parking is available at both stations and you can also take bikes on the train, but as space is limited for standard cycles it may be more suitable for users of folding bikes e.g. Bromptons.
Visit our rail page for more info. Or use our Journey Planner to see all your travel options.
Getting to Cabot Park by car sharing
Many of the businesses in Cabot Park operate shift working patterns which do not fit with available public transport times, and therefore driving may be the only option for some.
If several work colleagues live in the same area and work similar hours there could be benefits in car sharing:
Saves motoring costs
Reduces number of vehicles entering the area
Reduces pressure on car parking
There are car sharing websites for people working at Cabot Park and the wider Avonmouth/Severnside area businesses which can help people find car share "buddies" (not necessarily within their workplace), travelling the same journeys at the same time.
Visit our car sharing page for more info.
Getting to Cabot Park by bike
Cabot Park is located close to two cycle routes. National Cycle Route 41 passes through Cabot Park from the south-east to the north along Lawrence Weston Road, linking to the wider Bristol area and north to Gloucester.
The majority of the route to Bristol City Centre via Avonmouth is along Portway. Route 410 (also known as the Avon Cycleway) links to the National Cycle Route 41 to the north-west of Cabot Park.
Within Cabot Park itself there are good, well-lit shared cycle/footpaths around the site (see map below).
Improvements to St Andrew's Road are to be implemented by Bristol City Council, which will see upgraded shared cycle and footways and additional crossing points. Details can be found at www.severnnet.org.
For further information on cycling in the area, visit www.betterbybike.info.
---
Area map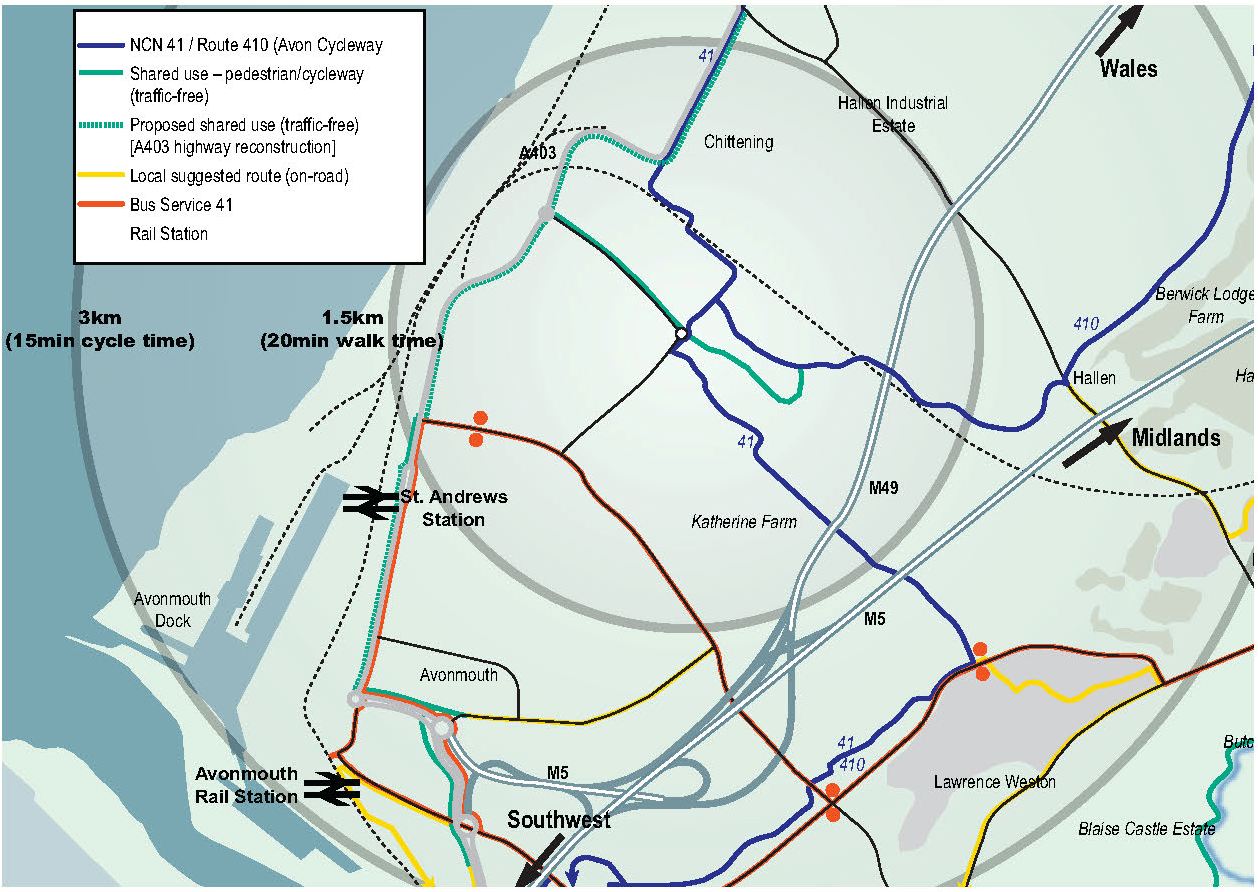 ---
More info
Cabot Park travel options leaflet
Download
pdf

PDF approximately 1.5 M
Cabot Park Travel Plan
Download
pdf

PDF approximately 2.13 M
SevernNet area Travel Plan
Download
pdf

PDF approximately 1.43 M